Everyone already knows that Facebook is crowded with online shops, but not many are aware of huge and ever-growing market that hides inside one of world's favorite social networks – Instagram.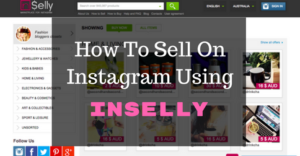 Instagram was created as a feast for the eyes and it's no surprise that instagramers fall into the trap of impulse buying when spotting cool items in their feed.
So if you're a handmade artist, an app that can help you sell your products through instagram is a great help such as Spreesy. But if you are looking for something that doesn't require a commission on your sold products, Inselly might work for you.
How It Works
You'll be paid directly from PayPal, and Inselly doesn't take any commissions from sales. Once you're up and running, just take or upload a photo to your Instagram account, tag it with #inselly and other relevant tags. You can always click on your profile and the "your items for sale" tab to see all the items you have posted.
Ksenia Rostova, the CEO of inSelly, says: "inSelly uses Instagram API and aggregates all pictures that have one of the "selling" tags like #forsale, #onsale #igshop etc. All these pictures end up on Page on inselly.com where they are properly sorted into various categories. Users can also sort items according to their geographical location and surf only local offers. When it comes to purchase, buyer can chat with seller using online messenger and buy desired item in one click via PayPal. Buyers will also appreciate such features as Favorite Items and Favorite Sellers."
How To Sign Up
Inselly does not charge any sales commissions. Inselly Shop is completely free.
To use Inselly, connect your Inselly account to your Instagram account. Fill in your contact and pricing information, and you're ready to go. Once your Inselly link is set as the link in your profile, followers can click on it to shop your items.
How To Buy
Go to Inselly.com using your instagram username and password. Authenticate Inselly.
Look for item/s you want to buy using the search bar
Contact buyer/s for additional details such as shipping fee (if not included in the price) and the item's shipping date and expected time of arrival.
Pay by clicking the Paypal button.
Wait for your item/s.
How To Sell
Take a Photo. Snap a Photo, using Instagram Application in your Smartphone
Add the tag #inselly. Simply add a tag #inselly to a picture, and several relevant category tags.
Sell on Inselly.com! Log in to inselly.com, click on "YOUR ITEMS FOR SALE" tab to add details about your item.
Advantage:
It is for free to list up to 100 items. You, as a seller, do not have to pay for anything. No registration fee. No item listing fee. No monthly fee. Inselly if for free for both buyer and seller and Inselly does not earn anything from the buying and selling transactions made within the site but Paypal charges sellers/merchants for receiving payment via Paypal. It is really simple and easy to use.
Disadvantages:
Inselly is relatively young so there are still a lot of features that are not available such as seller/shopper rating, and you have to manually delete your sold items but it works well for what it is.
You probably will not be able to sell anything if you do not have a decent number of followers on instagram so you'll also need to grow your instagram follower base. You are more likely to succeed in Inselly if you are successful in instagram.
Sounds interesting, right? Nowadays, when pace of life speeds up, inSelly offers great alternative to slow, complicated and somewhat outdated e-commerce platforms. It's easy, it's quick and, what's even more important, it's free. What more can one ask?
Latest posts by Gary Capps
(see all)