Generally, crafters turn to Etsy because it's fairly easy to set up and sell their items without needing a ton of technical knowledge. It is a quick way to get your handmade items in front of buyers searching for handmade goods, but there are downsides to the site too, and those downsides are big enough to draw many of the more successful crafterpreneurs to sell through their own e-commerce sites instead.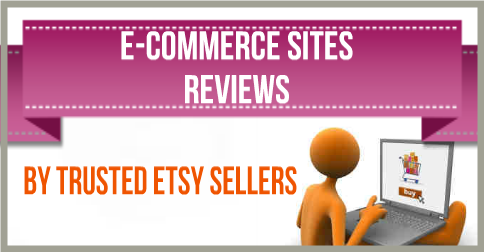 So which platform is best for a handmade seller like you? Some Etsy sellers have the answer for you. Check them out below:
Indiemade
Susan from crumbandbone
I'm on Indiemade and am less than a month old so Google hasn't even indexed me yet and I have only 16 items so far.
You can do your own SEO or they do it for you. I'm on the $14.95 plan which is 200 items. There's a blog and gallery pages built in. They have 6 templates but I found the set-up pretty easy and they'll tweak the template design for you if you want something specific. The customer service is stellar. www.crumbandbone.com
GoDaddy
Samantha from PrintzbySamantha
I used to use GoDaddy… and I liked it. It wasn't super expensive for what I was using it for, but when you want to add a shopping cart the prices go through the roof.
Shopify
Stick em up Labels from StickEmUpLabels
We use Shopify and have been happy so far! It was overwhelming (and frustrating) at first but we figured it out 🙂
IvoryMint from IvoryMintCards
I use shopify, it was so easy to set up and also really good for SEO (tells you where and when to input searchable words etc). Only thing is it $30 a month and some add-ons are expensive. Here is my site www.ivorymintweddings.co.uk
ShoppePro
Julie from ThePlayfulPlate
I'm in the process of setting up a website using ShoppePro and it's been great so far. I bought a template from another site and they installed it for me. I have just been loading in all my products (that is the time consuming part but I'm almost done). I got my first sale through it yesterday….yeah!
The staff at ShoppePro are fantastic and respond right away to any questions/issues (even on weekends).
I don't think I can post the link but it's my shop name with .com on the end 🙂
Weebly
Kate from BadgeBliss
I'm on Weebly – love it. Easy to use and great support. Slowly starting to get sales so I'm happy.
Wix
ShakeThatThang from ShakeThatThang
I am setting up my WIX as we speak and I am far from tech savvy, it has been very easy to set up , the customer service is top notch, templates are beautiful, I am not live yet..soon. Happy so far. I purchased my domain , need to get a po box and biz number.
KJ from LitandCo
I just set up a new site with Wix. I found it to be fairly easy as far as the drag & drop sites go, and I'm thrilled with the ease of integrating my etsy shop into it. If you want to see what I – with ZERO IT SKILLS – created in about 6 hours, check out www.litandco.com.
Margaret Mary Rodriguez from GothamPops
We use WIX and can't be any happier. You have to pay attention to SEO and check your Google Analytics daily. WIX is a very simple platform to use. I saw that someone said that it get's expensive. It doesn't. We have two different WIX sites running for our Photography and Design businesses and wouldn't change a thing. We build out sites for clients daily using WIX.
WordPress
April from MooreMagnets
I have mine on WordPress and I am completely happy with it … more than anything though, I've asked several people how they found me and all of them said Google. The seo plugin that I used for a while gave me easy to follow tips that were written in language I could understand.
For hosting, theme, and shopping gateway I pay about $160 per year.
Tips
You cannot set up your own website in a day and expect your sales to rival those of your years-open Etsy store. If you are planning to sell through your own e-commerce website, it will take lots of SEO, blogging, advertising.If you're looking for a quick fix, there is none.
Get over the expectation that you are going to sell big time on a free site the first day, week, or month you open, by doing nothing.
When evaluating the paid platforms like Shopify or Wix, make sure that they have easy full CSV import and export. When you're tired of the fees and eventually switch to a free platform you will need to be able to export your products easily without a lot of fuss. Many of the paid sites make exports difficult and try to tie you into their platform.
Don't depend on just online social media marketing to bring in customers.Get out there somehow and let yourself and your products be known in person, not just locally either. Getting tied up with any local Art center helps, teach some classes there, or join craft shows for your items. Be as creative in your marketing as you are with your craft.
Also look into advertising on magazines that cater to people interested in your craft.
That's it. How about you? Do you have any experiences with these e-commerce websites? Please let us know through the comment box below.
I live in the one of the most beautiful places in the world on the Sunshine Coast in Australia with my wife and our 2 dogs, Poppy and Mia. Since 2009 I have helped over 15,000 handmade business owners to grow their business with our software and
free tools
designed for todays entrepreneurial artisan.
Latest posts by Gary Capps (see all)