Using mobile credit card processing services allow you to use your smartphone or tablet to take payments wherever you are. Whether you want to be able to take payments anywhere in your store, during craft shows, or everywhere you and your business go.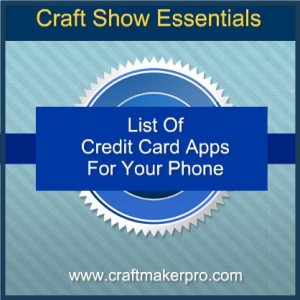 Square, the innovative start-up that turned smartphones into credit card processors is easy as plugging in a pocket-size card reader into your phone's audio jack and launching an app to process transactions.
Sure it is an awesome tool for handmade business owners especially during craft shows. But Square is currently only available in the US, Canada and Japan.
Luckily, there are other choices.
Here are four substitutes to the Square model that allow craft businesses to process credit transactions:
PAYware Mobile
PAYware Mobile features a cradle card reader for iPhones and a more conventional headphone-jack device for Android devices. It offers 24/7 service, and tailored solutions. With a proven name and quality to boot, Verifone's PAYware system is a viable solution for businesses.
Transaction Fees: There will be a one time set-up fee of $49. The card reader will cost approximately $149, but they will give it to you if you sign-up for a two year contract. Monthly fees for the merchant accounts will run between $20 – $30 per month and transaction fees may be a few cents per transaction or a small percentage of each transaction. You may also be charged a fee if your account remains inactive for a time,
PayPal Here
PayPal Here has a free app and device it will send you. Like Square, you can accept Visa, MasterCard, American Express, and Discover. However, you can also accept checks for electronic deposit and generate and send electronic invoices.
If you use PayPal and need the money in your business bank account, you'll have to transfer the money, which could take a few days. But if you need immediate access and you have a PayPal merchant debit card, PayPal is likely the faster option.
Transaction Fees: Fees start at 2.7 percent per transaction–a little bit less than Square–but if you manually enter the card information, the cost is like Square: 3.5 percent plus $0.15 per transaction.
Intuit GoPayment
GoPayment offers the standard card reader and app free. What may entice businesses are the variable pricing options. This is available on Brazil, Canada, US, Australia, and many other countries.
Transaction Fees:Using this pay-as-you-go service, you can accept Visa, MasterCard, American Express, and Discover cards for a fee of 2.7 percent of the total sale for swiped transactions, or a 3.5 percent fee for keyed-in transactions. Opt for Intuit's $13-per-month subscription plan, and your fees drop to 1.7 percent per swiped transaction, or 2.7 percent per keyed-in transaction.
EMS
EMS says it's been in the payment business for decades. If you hadn't heard of the company before, you might now, given that it offers a mobile credit card processing system. Plus, there is 24-hour telephone support, and optional Bluetooth printer for paper receipts, and no increased swipe costs for business or reward cards.

Transaction Fees: It has 2.25 percent swipe rate and a manual keyed rate of 3.5 percent plus $0.15 transaction charge.
So what's your excuse? Grab your handy credit card processor now and never miss a sale opportunity for your craft products.
I live in the one of the most beautiful places in the world on the Sunshine Coast in Australia with my wife and our 2 dogs, Poppy and Mia. Since 2009 I have helped over 15,000 handmade business owners to grow their business with our software and
free tools
designed for todays entrepreneurial artisan.
Latest posts by Gary Capps (see all)