An important step in improving your Etsy shop's SEO is to find the best possible words to describe your shop and your items. This helps your products come up faster for customers who are looking online via Google, Etsy, and other search engines.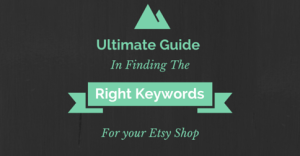 Here are four simple ways to generate keywords and phrases to use in your Etsy listings.
Brainstorming
Grab a pen and paper and spend some time brainstorming a bunch of keywords for your shop. You might also want to invite your crafty friend as well to help you with this. It is best way to identify the right keywords for your items and then gradually become more specific. For example: if I were brainstorming keywords for a turquoise ring, I would begin with simple terms like "ring," "jewelry," "turquoise," and "blue". Then, I would get more specific and choose words like "Gothic," "cosplay," "fantasy," etc. The best thing about this brainstorming exercise is that you'll end up with keywords you might not have thought of before. After making this list, use it to improve your listing titles, item descriptions, and tags.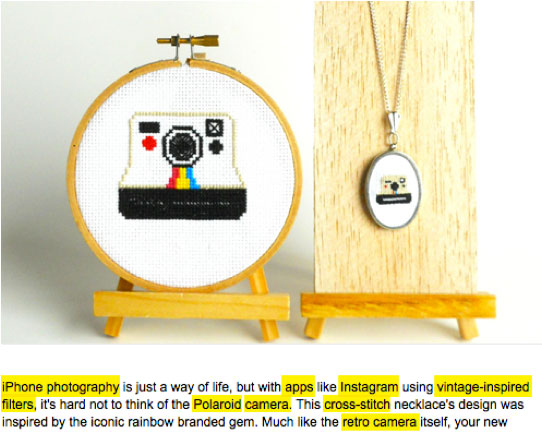 Also, look at your listing's description as there are good ideas in there that you are organically using when describing your item that make great keywords! Test some of these descriptive words in your titles and tags.
Think Like A Shopper
If you are a shopper, what words would you search when looking for your products or shop? The exercise of selecting keywords is also helpful when you choose tags for your item listings, which help place your listing in browse pages and Categories on Etsy, as well as getting found through Etsy's on-site search function.
Think of words that accurately describes your item. Etsy Admin often suggest using style, color, textures and motifs as tags for your items. Please see example below:

Etsy's Search Bar
Find keywords easily by using Etsy's main search bar. Simply type one of your keywords into the search bar at the top of the page, and it will automatically generate the most popular searches on Etsy that include your keyword. If you then add a space after your keyword, you will get a slightly different set of keyword phrases. Now you have instant ideas for your listing and tag keywords!
In addition, use diverse keywords and phrases. While using the most important and accurate keywords on every item, change up your titles and tags from listing to listing to ensure you're appearing in different browse pages and more searches, thus appealing to more buyers, who are all searching differently.
Seller RossLab switches up her titles to appear in more searches.
Shop Stats
Once you've had items listed on Etsy for a while, check your shop stats to see where your views are coming from on the Internet. Use these stats to help improve your listings by focusing on those keywords that get your items viewed and removing the ones that are not bringing in shoppers. Be aware that, unlike your titles and item descriptions, which will help with Etsy, Google, etc., tags are used for Etsy searches only.
There you have it. If you still have questions about getting found in Etsy's search or you want to share your SEO strategy, just pop them in the comments below!
I live in the one of the most beautiful places in the world on the Sunshine Coast in Australia with my wife and our 2 dogs, Poppy and Mia. Since 2009 I have helped over 15,000 handmade business owners to grow their business with our software and
free tools
designed for todays entrepreneurial artisan.
Latest posts by Gary Capps (see all)