One important way to increase Etsy sales is by using the proper keyword tags for each item.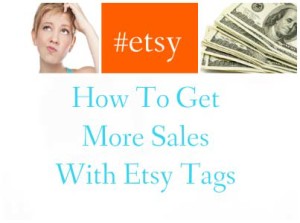 The more specific your tags are, the more likely your visitors are ready to make a purchase. Someone searching for "earrings" could have anything in mind; someone searching for "large silver hoop earring" is ready to buy – and that's an effective sales marketing strategy.
So how do you make well-written Etsy tags? Okay, we'll get there. But first, let's get to know Etsy tags.
What Are Etsy Tags?
Etsy tags are words or short phrases that describe your item. Etsy matches tags with shoppers' searches to find relevant search results.
An item's categories automatically become its first three tags. You can have up to 13 more tags per item listing and your tags can (and should) be multi-word phrases up to 20 characters. A single tag may be a short descriptive phrase (for example: "silver earrings"). Please ensure that your listings are tagged only with accurate and relevant words.
Punctuation and symbols aren't allowed in English tags, with the exception of: ™©
You can however use the following special characters in French and German tags:
À Á Â Ã Ä Å Æ Ç È É Ê Ë Ì Í Î Ï Ñ Ò Ó Ô Õ Ö Ø Œ Ù Ú Û Ü Ý Þ ß à á â ã ä å æ ç è é ê ë ì í î ï ñ ò ó ô õ ö ø œ ù ú û ü ý þ ÿ ' –
Tags can help you drive more sales. The word "targeted" means the people coming to your shop are likely to be interested in what you're selling. So only use relevant Etsy tags.
There's no sense tagging your silver earrings "Super Bowl 2014?. You might show up in more searches, but your people searching for "super bowl 2014? won't be interested in your earrings and Etsy might penalized you upon tag abuse.
How Should I Write My Etsy Tags?
Try to think like your customers as you write your Etsy tags. Start with the most obvious terms first. For example, suppose that you're selling a handmade soap. You may apply tags such as bath soap and soap. Next, you may apply tags that indicate the style of the soap — say, organic, scented, shaped, oatmeal, or whatever. Then you may add tags to convey the soap's size (large), texture, and color (green, pink).
Simple Etsy tag guide:
Be specific: write two- and three-word tags
Use synonyms
Use all the tags
Use Etsy's search preview
Use Etsy's search suggestions to write your tags.
Take a look at the "relevancy" teams on Etsy. (Yes, there are Etsy teams dedicated to helping your products get seen!)
Example:
Combinations of words work better than single word tags. The more words a searcher is using, the better they understand what they are looking for. Consider the differences:
Business card holder vs. customized embossed business card holder
Bathsoap vs. organic unscented bathsoap
Embroidery font vs. Disney embroidery font
Choose the one that most accurately fits your item (warning: Etsy does respond to complaints about mis-categorized items, so beware. If you try to list something in a category where it doesn't fit, Etsy may censure your store!).
Showing up in a search result is great, but ultimately you want the right buyer to click on your item listing. So connect your items with the right buyers, not hundreds of uninterested buyers. Keep it relevant. Comb through your item listings. Get rid of the tags that buyers probably aren't using to find this particular item. Also, learn how to take great photos, since they will get more clicks in search.
Use your shop's analytics to see what is working. Picking the right keyword tags using these Etsy tips is a quick and efficient way to drive traffic to your Etsy shop.
I live in the one of the most beautiful places in the world on the Sunshine Coast in Australia with my wife and our 2 dogs, Poppy and Mia. Since 2009 I have helped over 15,000 handmade business owners to grow their business with our software and
free tools
designed for todays entrepreneurial artisan.
Latest posts by Gary Capps (see all)