Do you want to grow your sales in Etsy?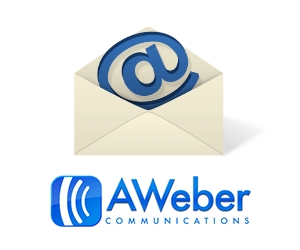 It's easy! Follow up with your customers who are already interested in your products.
How to do this? By one of the most effective ways to promote your craft business online — e-mail marketing!
AWeber can help you with that. Once the AWeber-for-Etsy app is installed, any time a shopper buys a seller's product, they are added automatically to your subscriber list in AWeber.
So let me tell you a little bit about AWeber…
I personally use Aweber and I love it. We send out literally hundreds of thousands of emails a month to our various lists which just would not be possible to manage without using a system like this.
Advantages
Easy Set Up – Aweber is very easy to set-up. It's as simple as going in, naming your new email campaign, and then following the steps. It's a simple process that needs very little – if any – techie experience.
E-mail Templates – Aweber offers over 150 easy to use templates with custom editing including color schemes, logos, or even simple plan text. AWeber has an email editor that helps you customize your emails or newsletters with your logo, custom color schemes, etc. Basically once you've got your template set up the way you like, you can save that, and start adding your content.
Social Media Integration – You can publish a link for your email broadcast to your social media networks like Twitter or Facebook.
Analytics – You know it's hard to increase conversions if you don't know what your conversions are. With Aweber's analytics, you can keep very careful watch on the activity of your list members, and exactly how they're reacting to your emails. You can see your campaigns' performance based on who opened your email, which links were clicked on, and how many clients unsubscribed from your list.
Support – They provide a very thorough knowledgebase with videos and FAQ's etc. If you need an answer in a hurry then they can be easily reached through email, phone, or chat during daytime office hours.
Plans and Pricing
Only $1 for your first month and then
$19 per month entitles you to 500 subscribers
$29 per month entitles you to 2,500 subscribers
$49 per month entitles you to 5,000 subscribers
$69 per month entitles you to 10,000 subscribers
$149 per month entitles you to 25,000 subscribers
Contact them for special pricing for over 25,000 subscribers
AWeber has a discount program based on the length of time you pay in advance.
Save $8 for a 3 month advance payment
Save $34 for a yearly advance payment
How Aweber Integrates With Etsy?
Here's what I am talking about at the very first part of this post. If you have an Etsy store, you can integrate it with your email campaign by using AWeber's Etsy app.
To get started, log into your AWeber account (if you don't have one, register here) and find the Etsy app in the "My Apps" showcase.
Find the Etsy app in the showcase and click on it. On the next page click on the "Enable" button.
You'll be redirected to your Etsy account (you may have to log in), where you'll be prompted to allow AWeber to access your Etsy account. Click Allow Access.
Back in your AWeber account, you can now choose what list you'd like customers to join when they buy from you. Note: You can also choose to have customers added to different lists based on the product they purchase. To do so, check the box, then choose the product on the left and the list you'd like customers who buy that product to join on the right.
To add your Etsy products to a message, open a follow up or broadcast, and drag a Product block into the message. On the right, you can choose your Etsy products from a drop down. The product you choose will have its description, image, price, and purchase link automatically inserted into your message.
Please Note*
Only one Etsy account can be integrated with your AWeber account.
A confirmation message will be sent to subscribers added to your list in this manner. Make sure that you customize the confirmation message so customers know why they are being asked to join your mailing list.
Etsy may take up to 2 hours to report new customers to your AWeber account, so do not be alarmed if you experience a delay in customers being added to your list.
That's pretty useful, right?
If you don't like AWeber, you might also be interested to check our review on GetResponse which also works like AWeber.
I live in the one of the most beautiful places in the world on the Sunshine Coast in Australia with my wife and our 2 dogs, Poppy and Mia. Since 2009 I have helped over 15,000 handmade business owners to grow their business with our software and
free tools
designed for todays entrepreneurial artisan.
Latest posts by Gary Capps (see all)