Nothing says "I love you" like a one-of-a-kind gift you've made with your own two hands.
After you're done with your handmade business Valentine's Day marketing, take a break from the same old stuff and put on your crafting gloves: do-it-yourself gifts and treats are a romantic way to show your loved one how much you care.
Let's start off with these amazing easy to make Valentine's Day gift ideas:
1. Personalized Gift Coupons
Personalized gift coupons are always a big hit, and they're almost as much fun for you to make as they are for your special someone to redeem. These romantic coupons can be redeemable for activities as tame or as spicy as you'd like.
2. Sharpie Mugs
Make your own sharpie mugs of love as gifts for friends, family, or your sweetheart.
3. Chalkboard Gift Ideas
Chalkboard gift ideas from Crafts by Courtney are easy-to-create. With the right stuff, they make the perfect gift.
4. Light Bulbs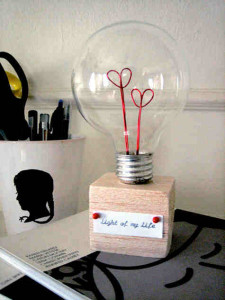 Your light bulbs may burn out, but your love will last forever. Tell the light of your life how much he means with this DIY valentine light bulb decoration. Turn a boring household accessory into a sweet gift he'll adore.
5. Love Potion Bottles
Love Potion No. 9 is a print-at-home love potion label which turns your favorite beverage into a romantic gift that's also a big hit at your Valentine's Day party.
6. Heart Cupcakes
Heart cupcakes are delicious and easy to make. They make a sweet and romantic gift for that special someone in your life, whether for a special occasion or for whenever!
7. Marshmallow Pops
Decorated marshmallow pops with homemade heart sprinkles for a sweet gift anyone will enjoy.
Valentine's Day Treats
Everybody loves food so take advantage of it and make them feel loved and full. Now, celebrate Valentine's Day with sweet treats tutorial by Bethany Mota .
That's it. I hope you enjoy our list. So what's your favorite? Let us know in the comment box below.
I live in the one of the most beautiful places in the world on the Sunshine Coast in Australia with my wife and our 2 dogs, Poppy and Mia. Since 2009 I have helped over 15,000 handmade business owners to grow their business with our software and
free tools
designed for todays entrepreneurial artisan.
Latest posts by Gary Capps (see all)