Are you looking for ways to make your keyword research more effective for your Etsy store or online shop?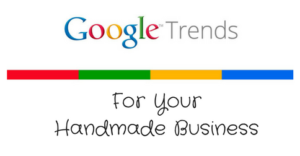 If you have never heard of, or used Google Trends before then you are in for a treat! Google Trends is a tool that allows you to compare the popularity of search terms and trends. With a number of different features, it allows you to gain an understanding of the hottest search trends of the moment along with those developing in popularity over time.
Google Trends is one of the best and most versatile tools available for SEO. It is the marketing equivalent of the Leatherman or Swiss Army knife. If you could only use one SEO tool to develop an Internet marketing campaign, this product would be a serious contender.
When performing a search on Google Trends, you have the option to set four variables or parameters:
Web Search – Image search – News Search – Product Search – YouTube Search
Worldwide – Option to choose a specific Country
2004-Present – Past 7 Days – 30 Days – 90 Days – 12 Months – Choose a Year
All Categories – Arts & Entertainment – Autos & Vehicles – Beauty & fitness – Books & literature – Business & industrial – Computers & electronics – Finance – Food & drink – Games
You can compare up to five search terms or groupings at one time, with up to 25 search terms in each grouping.
How To Use It
Since Google Trends doesn't give actual search numbers, it works best when used in combination with the Keyword Planner. Google Trends will show a "normalized" or relative level of interest over time for a prospective keyword phrase. It also allows you to compare the level of interest among potential target phrases.
Let's say you're selling handmade soaps. When does interest in handmade soaps peak? What potentially drives more traffic; the search phrase "handmade soaps" or "organic soaps"?
How To Understand Your Audience
As the most popular search engine, Google has become more of an institution than a search engine. This allows their search data to be incredibly indicative of public opinion and interests. You can use this to your advantage by understanding public opinion related to your industry.
If I were using Google Trends for Etsy I would like to know how the perception of our industry has changed over time and where it lays now.
I would get myself on Google Trends and start with the basics. I would type some key phrases in the search box above that I think would be indicative of a difference in opinion and understanding of our industry.
You will be greeted with a graph which will show you the search trends over time for the phrases compared to each other. These will automatically default to Worldwide but if you are targeting a specific country or area, you may want to tailor your graph to that area.
To do this navigate down to the Regional Interest panel and select your preferred Region or City
Well, the good news is Google Trends is free! It's open for anyone to use, whenever you like. What can you do with
Google Trends? The list of potential uses for Google Trends is endless, but here is a quick step by step guide to using Google Trends to benefit your business.
So what do you think about this in conjunction with the Keyword Planner? Have you tried this? Please share your thoughts in the comment box below.
I live in the one of the most beautiful places in the world on the Sunshine Coast in Australia with my wife and our 2 dogs, Poppy and Mia. Since 2009 I have helped over 15,000 handmade business owners to grow their business with our software and
free tools
designed for todays entrepreneurial artisan.
Latest posts by Gary Capps (see all)