Are you selling craft supplies like yarns, ribbons, beads, etc.? Are you getting your stuff from Aliexpress and Amazon? Are you considering to use a drop shipping method? We have the answers for you.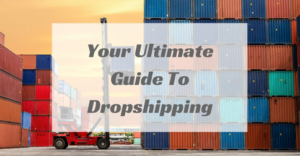 But first, let's define what drop shipping is:
Drop shipping is a supply chain management process. This method involves a retailer that does not keep goods in stock. Rather, the retailer forwards customer orders and shipment details to either the manufacturer, another retailer, or a wholesaler, who then ships the goods directly to the customer.
Sounds more convenient, right?
Here are questions about drop shipping that will help you in the process.
What about long shipping times?
The problem with drop shipping is, you don't have your stocks on hand which means that your buyers will have to wait a little longer to receive their order if the supplier lives in China or in other countries.
If you're doing SaleHoo drop shipping on Amazon.com this is obviously not a concern because you're using American suppliers. If you don't know what SaleHoo is, you can learn more about it on the next topic below.
If customers are bothered by the long shipping times, they are never your customers in the first place so don't stress about them.
There are some things you can do though to help with the long shipping times:
Offer free shipping – most people find this as a good consolation for making them wait.
Add exclusivity to your product for your loyal customers.
Focus on conversions and create a listing that captures the attention of the viewer.
Make it look like your products are on sale for a limited time only, so that they need to act ASAP in order to get it for a special sale price.
What should I get, SaleHoo or Terapeak?
I mentioned SaleHoo earlier and there's another one called Terapeak.
So what's the difference?
Get SaleHoo if you want a directory of wholesale suppliers/dropshippers. Get Terapeak if you want a tool to help you identify low-competition, high-profit items for eBay.
Simple as that.
Non-USA dropshipping businesses
So how a drop shipping business works outside the USA if you don't live in America? Should you only drop ship in your own country (UK, Australia etc)?
The answer:
There are a lot more drop shippers in the USA because it is a manufacturing nation. China accounts for 23.3% of all manufactured goods, and the USA accounts for 17.2% of all manufactured goods.
This is why both of these countries have substantially more drop shippers than other countries. If you try to drop ship in the UK, Australia, Europe etc. you're going to struggle simply because you will struggle to find suppliers to support your business.
You can try, but I do strongly recommend you open a USA-based Amazon.com account and sell to USA residents.
How to handle refunds?
Only work with drop shippers that have refund policies.
Eventually you're going to have to deal with refunds with Amazon. With Amazon.com I recommend having the customer ship the item back to the supplier. With a PRO Merchant account you can have multiple return shipping labels.
What if customer will just buy from the original supplier?
Many sellers are worried that customers will just go to the original supplier and cut them out.
There are some customers that are savvy and know that Aliexpress exists and those customers will go to Aliexpress and cut you out.
However, there are a large amount of people that do not know Aliexpress exists, and it is THESE customers that will order from you.
It seems obvious to you that the customer would go to Aliexpress because you would go to Aliexpress. But the only reason you would do that is because you're savvy in the world of ecommerce, and most people aren't.
You were never going to have those customers in the first place – so they aren't lost sales. Don't worry about it:
Focus on the customers that don't know about it – THEY are your target market.
Check this informative video from Wholesale Ted to learn more about drop shipping:

I hope this post answered your questions about drop shipping. If not, please let us know in the comments and we'll try our best to answer it.
I live in the one of the most beautiful places in the world on the Sunshine Coast in Australia with my wife and our 2 dogs, Poppy and Mia. Since 2009 I have helped over 15,000 handmade business owners to grow their business with our software and
free tools
designed for todays entrepreneurial artisan.
Latest posts by Gary Capps (see all)