How to generate a business name that is unforgettable, remarkable and interesting?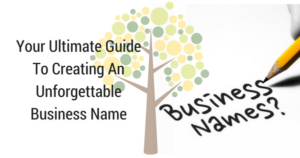 Handmade gal… organic maiden… craft chick… and so on.
I know it is challenging to show our uniqueness to our target audience – no matter how long we've been in this niche.
Before you start a business, you might have thought about having a memorable business name that is interesting, draws attention, relevant to your products, shows your personality, etc. or maybe until now, when you've been selling for years, you're still wondering about changing your business name.
If you're stuck, check these tips from Butterink to give you an idea on how to achieve a business name that is timeless and perfect for you and your business:
For technical and more comprehensive tips to have a great business name, please check the infographic by WEBS below:
I hope you find this useful. Looking forward to see your business becoming popular across the world wide web.
I live in the one of the most beautiful places in the world on the Sunshine Coast in Australia with my wife and our 2 dogs, Poppy and Mia. Since 2009 I have helped over 15,000 handmade business owners to grow their business with our software and
free tools
designed for todays entrepreneurial artisan.
Latest posts by Gary Capps (see all)