When it comes to online craft business, flexible payment processing is very important which allow users to do transactions online without any hesitation.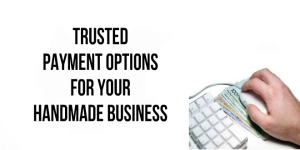 But which one should I use?…
If you are selling your crafts online, here is a list of payment service providers used by most crafters.
PayPal
Paypal is the top dog when it comes to online payment services. It is generally easy to use and a relatively secure way to send money while buying products & services online (whether eBay or other online merchants), but it does have its downsides.
The web is filled with folks who have had their Paypal account frozen with no explanation and it can severely impact your business. Unfortunately, we have also experienced this problem and our account was once limited by Paypal.
Despite of this issue, Paypal is still the world's most roughly used payment platform with 132 million registered active accounts in 193 markets.
Pricing: PayPal takes 2.9% + $0.30 per transaction and has no setup or monthly fees.
Source: PayPal merchant fees
Google Checkout
Google Checkout is definitely aimed at merchants more than anyone else. Google Checkout allows users to pay for goods and services through an account connected to their Google profile. It takes the payment portion out of the transaction so that you simply send a buyer of your products to a checkout page which is powered by Google Checkout. When on that page, a buyer will enter their payment information – and then be sent back to your site with a confirmation of purchase.
Pricing: Google Checkout fees start at 2.9% + $0.30 per transaction for sales less than $3,000. The percentage they take goes down depending on monthly sales volume.
Source: Google Checkout fees
Dwolla
Dwolla works like PayPal, although Dwolla doesn't have the same name recognition as their competition. One of the newcomers in the third-party payments space, the company is processing over $1 million per day.
Pricing: There are no fees for transactions less than $10. For transactions over $10, Dwolla charges $0.25 per transaction.
Source: Dwolla fees
Other payment service providers include:
Do you have any other recommendations or experiences with the ones above? Let us know in the comments below!
I live in the one of the most beautiful places in the world on the Sunshine Coast in Australia with my wife and our 2 dogs, Poppy and Mia. Since 2009 I have helped over 15,000 handmade business owners to grow their business with our software and
free tools
designed for todays entrepreneurial artisan.
Latest posts by Gary Capps (see all)