Do you want to grow your sales this 2018? Start the year right by reading the right articles that already benefited a lot of handmade sellers last year.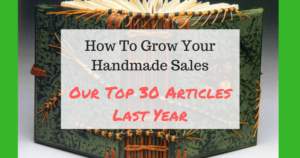 You can add these lessons into your marketing strategies and/or use them as an inspiration to plan for more unique business promotion plans.
2017 was a year of growth for Craft Maker Pro, with over a million visitors and page views!
If you want to start right, we've got a list for you!
I will list below the most popular articles that we have and share it again to you just in case you missed them.
So here are the top 30 most viewed and shared articles. These articles were not all published in 2017, but as you can see they were very popular!
Connect with us through our blog, Facebook page, Instagram and Twitter to get the latest updates and news in the handmade business world.
That's it. Thanks to all of our readers, fans, and subscribers! We hope you have an awesome 2018!
I live in the one of the most beautiful places in the world on the Sunshine Coast in Australia with my wife and our 2 dogs, Poppy and Mia. Since 2009 I have helped over 15,000 handmade business owners to grow their business with our software and
free tools
designed for todays entrepreneurial artisan.
Latest posts by Gary Capps (see all)