Are you looking to revamp your craft fair booth, but don't know the latest trends for 2016?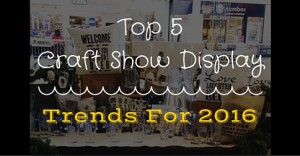 Get inspired by these craft show ideas straight from the vendors of the most recent Craft and Hobby Association Megashow, HBG Flea and more.
Some of these trends you might recognize as old favorites that keep on going, while others are new to the scene.
Whether you're a craft fair browser or vendor, you'll definitely want to be on the lookout for these trendy finds.
Use any of these trends as inspiration for the perfect space to sell your crafty creations. Even if you're looking to simply add a special touch or two, these craft fair display ideas will inspire creativity!
1.Wood
Wood! Everywhere! It's the hottest material to be found. Whether it's laser-cut wood jewelry as seen below, craft booth displays, or even fun props, wood is going to be the hottest material for craft fairs. And why aren't we surprised? It adds an instant rustic appeal that always feels so warm and cozy.
2. Crates
This isn't a super new idea, but I saw almost every booth using some sort of crate or box to display their pieces. Crates give your booth height and will draw your eye upward to look at more than just whatever is on the table.
3. Calligraphy Signs
Do not underestimate the power of price signs and item description written in calligraphy. It will draw a lot of attention from the crowd and you see that it helps add elegance to the craft show table.
4. Vintage Items
Using vintage items to display small items in large quantities. I think this selling tactic really works. The earthly colors and the urge to search through the table to find something new is a huge draw. As someone stood in this booth several others were waiting for that person to move on so that they too could "scavenge" for the coolest item.
5. Simplicity
One thing that never goes out of style is simplicity. I don't think I need to elaborate on this. Just look at the craft show tables below.
Bonus
To make your craft show experience fun and unforgettable, put some activity your customers will enjoy just like this:
That's it for now. So what trends have you been seeing at craft fairs lately? What's your favorite? Please let us know in the comment box below.
I live in the one of the most beautiful places in the world on the Sunshine Coast in Australia with my wife and our 2 dogs, Poppy and Mia. Since 2009 I have helped over 15,000 handmade business owners to grow their business with our software and
free tools
designed for todays entrepreneurial artisan.
Latest posts by Gary Capps (see all)