If you have a small business that you operate from home selling jewelry items, it's important to make sure that you handle every aspect with expert care.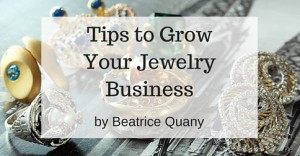 Otherwise, you could end up with a bunch of inventory and nobody to purchase it. In order to remain competitive and increase your profits, there are several things that you need to account for and understand.
First, know exactly how much you have invested in each item that you have for sale. If you are purchasing pieces that are ready to sell, the figure is simple to determine. On the other hand, if you are creating the jewelry yourself, it becomes a bit more complicated.
For artisans who are selling their wares via an online website and local craft shows, it's important to figure out the price of your materials and the value of your time. It can be tricky to remain competitive in this area because some artists undervalue their time or have different financial needs to consider.
A simple strategy is to investigate your type of crafted goods and what others are charging to determine pricing for your goods. This often works for the beginner or someone who views making jewelry as more of a hobby or side income for extra pocket change.
When you're ready to take your hobby to the next level, it's important to get a more accurate picture of costs versus profits. Fortunately, there are some great software programs out which will help you figure costs and values, whether you are purchasing fine gold jewelry or making macrame items for wear.
Software can also help you to track less tangible costs, including things like storage space, fuel and mileage costs, Internet, websites, utilities and phone bills that are often not as easy to track on your own.
A quality software package can be invaluable when it comes to growing your business, saving you time and reducing headaches. It provides the most accurate information to help you set prices and goals, making it well worth the small investment you'll need to shell out.
Once you have an idea of your current costs versus profits, it's time to start looking for ways to reduce costs and price competitively.
To keep prices down and profits up, it's important to find the lowest prices for your inventory without sacrificing quality. A great way to do this is by setting up a wholesale account for your copper, jewels, clasps, rings and other important supplies.
Scour the Internet to find the best distributors for your needs. Look for those with a stellar reputation balanced with reasonable pricing. Keep in mind that quality is essential to developing your own reputation on the web.
Look at your competitors to see what they are charging for similar items. If you need to charge the same just to break even or gain a negligible profit, review your books to find out why.
If their quality and customer service experience are equal to yours, you really should be able to price your items competitively while also making profits large enough to sustain your business.
As a final note, it's always important to stay in the loop when you're trying to grow your business. Network with other jewelers and continue to learn about your industry, joining forums and following market trends.
Following these tips will help ensure your company remains competitive and profitable.
About The Author
Beatrice Quany is the Marketing Director for IloveCopperJewelry.com, a website displaying unique creations by award winning designer John S. Brana. Visit the site to view their stylish collection of beautiful copper jewelry.
I live in the one of the most beautiful places in the world on the Sunshine Coast in Australia with my wife and our 2 dogs, Poppy and Mia. Since 2009 I have helped over 15,000 handmade business owners to grow their business with our software and
free tools
designed for todays entrepreneurial artisan.
Latest posts by Gary Capps (see all)