Being a handmade artist is never easy especially if you are courting the seemingly endless barrage of awkward, inappropriate and downright rude comments hurled your way. Even well-meaning people, say just the wrong thing to artists and crafters, especially at craft shows and festivals.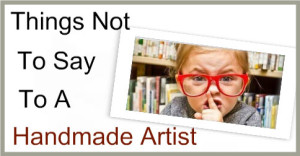 So we checked what Etsy sellers have to say about things not to say to a handmade artist, and we got some great responses!
Phallin Marie from 4SistersFarmSoapCo – "I have this friend that makes that too, her prices are cheaper."
Jess from DavenportGroves – "I can get yarn cheaper at wal-mart"
coalchild from coalchild – "you call that art?"
TC Torre from TowerCreationsbyTC – That looks easy, I bet i could do that. Will you teach me?
Tisha from NauticalPlusNotions – "Don't you have anything better to do with your time?"
Cari from CoquetteBath – "Where did you find that (insert name of product/scent/ingredient)"
Shelly from RockerchicBoutique – "That looks cheap" or "that looks like it will fall apart…" I had a woman at my last event pick up a leather cuff and say "well this looks like it will fall apart." All I could think is lady, I use high quality leather from a family owned shop on Etsy. So think again!
lisa from kabyco – "oh, so can you make money doing THAT?"
Jennifer from CountryCottageHerb – "Where do you get your supplies from?" I just blink and smile at them like they've just sprouted 3 heads! LOL
Dossie Garvey from petzoup -So how's that "little" art business of yours going?
Terri from WhilstDigitalStash – So what do you do if you aren't selling anything?
Aunt Sess from no1birchst – How long did it take you??
Samantha Kara from ArtistsCornerShop – "Could you make me something for free?" and "Oh, I could do that!"
TheGiftMaker from ConversationSoap – "Can I have your pattern?"
Dannielle R from PNTdolls – "That is really nice, it looks like you could buy it in a store!".
Katie from SkullKatsAttic – #1 thing not to say to an artist."Thats not a real job" I hear that alot.
Antonia from SecondChanceCeramics – One of my last art fairs, an adult young woman with her mother were looking at my mugs. The daughter wanted one, but the mom talked her out of it. Daughter, "Oooh, I like this fox one!"Mom, "Honey, don't spend your money. You can make this at home! I think she just cuts out pictures and glues them on. You could glue it on with clear nail polish."And they walked away. Yup, I use TONS of clear nail polish…Gallons. 😀
Check out this video and see how many of these you've heard at your craft booth:

Does anything in particular strike you? So, what are your thoughts about some of these comments?Please leave your comments and stories about your experiences, responses and outcomes on the comment box below.
I live in the one of the most beautiful places in the world on the Sunshine Coast in Australia with my wife and our 2 dogs, Poppy and Mia. Since 2009 I have helped over 15,000 handmade business owners to grow their business with our software and
free tools
designed for todays entrepreneurial artisan.
Latest posts by Gary Capps (see all)