Are your fans or followers responding to your social activities? Are they engaging in your posts?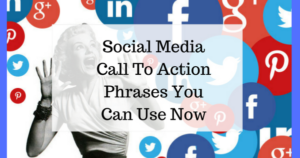 Do you know that there are right calls to action you can add into your social media strategy?
A call to action is a strategy for you to encourage engagement in your social media page.
So why should users take your call to action? What will the user get when he/she follows your call to action?
Take note, a person is only willing to complete a task if they recognized the need. So show the advantages of your call to action.
A call to action (CTA) is not just limited to lead generation and e-commerce sites. Every website, Facebook page, and a piece of content should have a goal it wants users to complete. The goal can be filling in a contact form, signup for a newsletter, or sharing your content.
Having an effective call to action is an essential part of your content.
Use active language!
A call to action should sound active and inform your audience what you want them to do. A great CTA should include active words such as:
Like
Comment
Get
Buy
Sign Up
Subscribe
Donate
These words will help people to take action. Also, you may want to create a sense of urgency and need to act now. You can use phrases such as:
Offer expires after 24 hours
For a limited time only
Order now and receive a free gift
Now, let's take a look what makes a call to action work:

Now if you think this strategy is useful, please let us know in the comments.
I live in the one of the most beautiful places in the world on the Sunshine Coast in Australia with my wife and our 2 dogs, Poppy and Mia. Since 2009 I have helped over 15,000 handmade business owners to grow their business with our software and
free tools
designed for todays entrepreneurial artisan.
Latest posts by Gary Capps (see all)