Do you want to set goals without the stress and increase sales? I bet you do!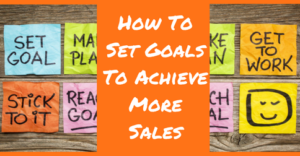 Find out the most effective ways that really successful people, who seem to achieve more than you could ever imagine, actually achieve their great success.
Every self-help book, brainstorming, motivational seminar and sales management training weekend hammers the idea of setting goals into us. Doing this allows you to plan your weeks and days so you take the actions vital for achieving your sales goals.
The reason for this is that setting a solid goal adds tremendous power to your business efforts.
Focusing on how to set the right sales goals will help you manage your sales pipeline in a way that will help you achieve your realistic sales goals.
This study from Harvard University will show you two main reasons why setting goals is important: Motivation and achievement.
According to the study, the simple act of setting a goal increases the motivation of the person doing the task. Instead of just telling yourself to "do your best," the study suggests that setting very specific goals boosts motivation and where to focus all efforts.
The way to ensure you achieve your 2017 sales goals is to build the action plan to get the attention of your target customers.
Today, MarieTV is sharing a simple 2 step process that helps sellers set goals for the new year (or any time of year!), plus the tool that she use in her business to make sure we follow through on our plans.

Following these two steps when setting sales goals will improve your ability to meet and even exceed your goals.
I live in the one of the most beautiful places in the world on the Sunshine Coast in Australia with my wife and our 2 dogs, Poppy and Mia. Since 2009 I have helped over 15,000 handmade business owners to grow their business with our software and
free tools
designed for todays entrepreneurial artisan.
Latest posts by Gary Capps (see all)