Do you want to know the secret of having an online store with products that are always sold out?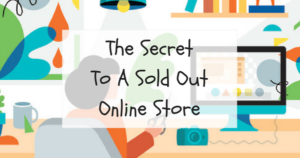 Sounds impossible, right?
But it happened to Hayley Castle, owner of Camp Castle Playmats. She sells… well, play mats for children to moms, grandmas and aunties. Her play mats are so fun to use as they include fun activities and other functionalities that all kids (even adults) will love. This is also great in bringing back the nostalgia of having play mats at home.
So what's very special with her online store?
Hayley had to fill 105 orders in a short period of time, sold out of everything, made $11,000 in sales and is now in the process of restocking!
Despite her busy schedule, she will share to you the difficulties she has encountered. She will also talk about some issues she's constantly seeing with online sellers and share tips on what they should avoid.
In addition, you will know how she overcame some of her own struggles which are probably the same struggles you might be having right now.
There's no easy way for success. According to Hayley, it took her 5 years to finally discover the right quote and her target audience and once she discovered it, wham, her business started to grow in an insane manner.
Check this video by Renae Christine as she talks with Hayley about her process, what finally clicked and what was the final change that did it.

So what is your greatest takeaway from this video? Please let us know in the comments and I'd be happy to share my thoughts as well.
I live in the one of the most beautiful places in the world on the Sunshine Coast in Australia with my wife and our 2 dogs, Poppy and Mia. Since 2009 I have helped over 15,000 handmade business owners to grow their business with our software and
free tools
designed for todays entrepreneurial artisan.
Latest posts by Gary Capps (see all)