When it comes to selecting a WordPress theme for your handmade business website, you may be tempted to go with a free WordPress theme.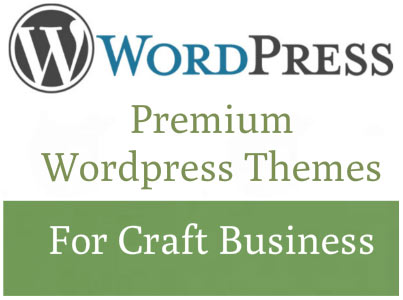 Why pay for a premium WordPress theme?
The answer is this: when you purchase a WordPress premium theme, you not only get the capability to customize it for a truly unique look, you also get the technical support you need to make it look great. Also, you usually get cool tips and tricks for customizing premium themes and the support comes directly from the people who developed the theme. What's not to love about that?
Prices for a premium theme are no where near as expensive as you might think and the few extra dollars invested can really make your business look more professional and unique.
Here are some cool WordPress themes perfect for your crafty skills:
Adorable
Adorable theme is bold, sleek styling and colorful. Adorable theme includes 6 layout options, custom background, custom header, featured images, fixed width, mobile responsive, theme options, and threaded comments.
Price: $24.95
Bee Crafty
Bee Crafty is a premium WordPressthat could be used for art and craft sites, mommy blogs, ecommerce websites, portfolios, photo galleries, personal blogs or anything else you can imagine.
Price: $24.95
Craftiness
Craftiness is a feminine styled blog WordPress theme ideal for bloggers, creative, crafty and female websites.
Price: $79.95
eStore
eStore provides an elegant solution for those looking to sell products online. The theme is easy to configure, and offers integration options with some of the most popular (and free) ecommerce plugins, including eShop and Simple PayPal Shopping cart.
Price: $39
Handmade
Handmade is a WordPress blog designed with the arts & crafts and cooking in mind. The gorgeous design and tiny details make this theme both unique and flexible.
Price: $60
Made With Love
Made With Love theme lets you find more customers for your handmade and natural products project.
Price: $75
Origin
Origin is a stunning grid-based theme that tells a story through imagery. It is a perfect theme for artists looking to showcase their latest work, or if you are a blogger looking to give your visitors a fun new way to browse your latest posts, Origin is a great choice for you.
Price: $69
Pinboard
Pinboard works great if you're a big fan of Pinterest. It features an auto stacking layout with infinite scroll as seen on the Pinterest desktop site. If you are unfamilar with the term "infinite scroll", it means that new posts are loaded automatically when you hit to the bottom of the page.
Price: $39
Sally Store
Sally Store is a chic eCommerce theme. It features dots, stripes and chevron pattern with ribbon shape. Available in two color choices; soft pink & happy bright color, Sally store is suitable for online store.
Price: $79
As a small business owner, your website is a business asset that works to earn you money. Your homepage is your online storefront. You rely on it to bring customers to your business. In today's highly competitive world, customizing your website could give you a unique identity. So get your customizable theme now!
I live in the one of the most beautiful places in the world on the Sunshine Coast in Australia with my wife and our 2 dogs, Poppy and Mia. Since 2009 I have helped over 15,000 handmade business owners to grow their business with our software and
free tools
designed for todays entrepreneurial artisan.
Latest posts by Gary Capps (see all)