Do you want customers to be able to throw in their credit card numbers right away without asking them to login into PayPal?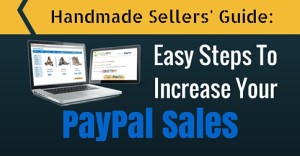 Before you read further, please be advised that this feature is available to Premier and Business account holders only. It can't be done with Personal.
You can easily upgrade your personal PayPal account to a Business account. The cost is free. And from there, you can (also for free) have your account "verified." The only obstacle to this is that some very specific and personal information about the seller is required.
Once this is settled, we can now carry on with the steps on how you can make your buyers without PayPal account check out.
This function is only available if you have linked your credit card to your PayPal account.
PayPal will then allow your customers to complete their payments first. Later on, they can decide whether to save their information in a PayPal account for future purchases. So, signing up for a PayPal account is now optional for new buyers.
To be more specific, what do they need to do once this feature is activated?
Customers are asked to enter their name and shipping address.
They're prompted for their credit card, email address, and phone number.
After reviewing their information, they may choose to save their information by creating a PayPal account to make future transactions faster.
As you can see, that will give a positive effect on your handmade business conversion rate as it results in more completed sales and satisfied customers.
So what you should do to activate this feature?
Login to your PayPal account on PayPal.com and then, Click Profile.
On the left side, click "My selling tools"
And then, at the farther right side next to Web Preferences, click Update.

Lastly, set "PayPal Account Optional" to On.
That is the only action you need to do to get it activated.
The checkout automatically applies to Website Payment tools like Buy Now Buttons, Donations, and PayPal Shopping Cart, as well as Request Money and PayPal Invoicing features.
PayPal's fraud prevention measures remain in effect for buyers who use this checkout feature. PayPal applies the same techniques for this checkout as it does for other transactions.
To turn off this feature, simply go to the same steps above but just tick the Off box under PayPal Account Optional.
That's it. Keep your customers' options open to get more sales. That's just an easy step to begin with, so don't be left behind.
I live in the one of the most beautiful places in the world on the Sunshine Coast in Australia with my wife and our 2 dogs, Poppy and Mia. Since 2009 I have helped over 15,000 handmade business owners to grow their business with our software and
free tools
designed for todays entrepreneurial artisan.
Latest posts by Gary Capps (see all)