How do you choose your prices? Do you look at competitors' prices and chose a comparable price, or do you aim lower? Do you factor in labor, materials and profit? Do you keep your prices low because you're afraid pricing higher will mean selling less?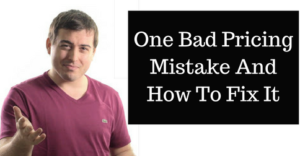 How much should I charge for my products and services? – this is a question I get ALL the time every time someone finds out that I'm an owner of a pricing and inventory software for handmade products.
Well, there are a lot of factors to consider but there's a bad mistake people make when they price their products and services…
…and it leaves a TREMENDOUS amount of revenue on the table.
Are you making it?
Think about this:
When you add a red carpet option, you'll find that most people will avoid it. You'll also find that people will avoid your cheapest option, too.
Why?
When people buy products and services they avoid the extremes (the cheapest and most expensive) and settle for the middle ground.
I have noticed this behaviour with my very own customers too when I was testing the pricing of my product.
Derek Halpern from Social Triggers will explain to you this mistake and a way to fix it.
If you want to automate your pricing based on this principle, you can download our free craft and jewelry pricing calculator here.
So now, tell me about how you came up with your prices. I am sure your experience will be helpful to others needing some guidance. Please let us know in the comment box below.
I live in the one of the most beautiful places in the world on the Sunshine Coast in Australia with my wife and our 2 dogs, Poppy and Mia. Since 2009 I have helped over 15,000 handmade business owners to grow their business with our software and
free tools
designed for todays entrepreneurial artisan.
Latest posts by Gary Capps (see all)