Etsy sellers are doing more business on their mobile devices nowadays. We all know that it is important for you to have access to critical features of your shop at all times, therefore,a new app wascreated to help you more effectively run your business from your phone.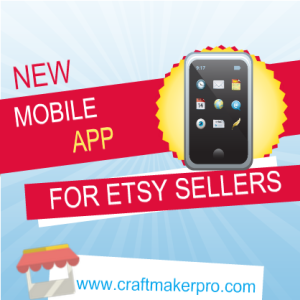 The new app 'Sell on Etsy for iPhone' marks a big step towards maximizing Etsy sellers' mobile experience. It works on iOS 6 and above. There isn't a native iPad app, but you can download it on your iPad, and tap the 2x on the bottom right of the app window to magnify it.
The Sell on Etsy app was designed from the ground up with the needs of Etsy sellers in mind. They've put some of your most important shop management tasks, along with brand new features in an easy-to-use iPhone app so that you can quickly manage your shop on the go.
Dashboard
The dashboard is divided into Shop Activity and Shop Stats.Your Items lets you add and manage listings, renew expired listings, and search your items by keywords or filters. Listing variations aren't supported for now. You'll have to manage those through the desktop.
The app is free to download from the Apple App Store, and some of the features include:
Shop Activity Feed: Keep tabs on purchases, reviews, favorites, and more
Order Management: Manage your open orders and revisit completed ones
Listing Manager: Create, edit, and publish listings directly from your phone
Convos: Read and write convos and use snippets to save and reuse messages
Shop Stats: Access your views, favorites, orders, and revenue history
Notifications: Receive an alert when you get a sale or convo
Create a Listing
Go to Your Shop > Add New Item. Choose who made your item and what it is. This will determine what categories your listing will be in and if it will be handmade, vintage, or a supply.
Upload at least one photo of your item. Either take a new photo or Choose from Library, which will allow you to select from your iPhone's Camera Roll. You can upload up to 5 photos.
Enter a title and description. Your title, along with your tags, is helpful for getting your item found in search. Be descriptive but concise. Place the most searchable keywords near the front of your title.
Add tags and materials. Use all 13 tags so you cover different ways shoppers will search for your item. Learn more about using Etsy tags to get found in search results.
Enter your item's price and quantity, or how many you have available to sell.
Add shipping rates using a Shipping Profile. Choose an existing profile or create a new one. Once you create a profile, you'll be able to use it on other listings.
If you save a draft of your listing, you can get back to it later by going to Your Shop > Items > Draft Listings on the app or Your Shop > Listings Manager > Draft on a computer or on the iOS version of the site.
Take advantage of all the features the app has to offer. While the Sell on Etsy app is only available for iPhone at the moment, an Android version will be released out soon.
I live in the one of the most beautiful places in the world on the Sunshine Coast in Australia with my wife and our 2 dogs, Poppy and Mia. Since 2009 I have helped over 15,000 handmade business owners to grow their business with our software and
free tools
designed for todays entrepreneurial artisan.
Latest posts by Gary Capps (see all)