Macy's flagship is one of the top tourist attractions in New York, visited by millions of shoppers a year.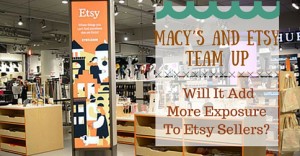 And now, Macy's is trying to become less reliant on apparel at a time when consumers are shifting their spending to other areas.
And so, this store's recently renovated basement of its 1 million-square-foot store in Herald Square store in New York City's is getting a new tenant: Etsy has announced plans to open a pop-up shop inside the retail store.
By allowing an Etsy pop-up shop inside its store, Macy's can offer shoppers a rare opportunity to see online retailed goods in-person. Etsy doesn't have any physical locations, so its temporary installations are must-visit attractions for its fans.
Shoppers will enter Macy's to visit the Etsy shop, but they'll also be coming to enjoy an exclusive in-store experience.
Who are the Etsy sellers featured?
The temporary shopping installation will feature products from eight of the top Etsy product designers, and inventory will be available on-hand for shoppers to purchase items and bring them home immediately.
The Etsy shop will also offer 57 products picked by Macy's buyers in an assortment that will include stationery, jewelry, and homewares, as well as some items made just for the department store. The selection will be changed over every two months.
More than most retailers, Macy's tries to fashion itself as a destination for experiences, not merely a place to purchase products. A partnership with Etsy achieves exactly that.
Even if Macy's doesn't sell a product to a consumer, it still benefits from the buzz and engagement that comes from heavy traffic into its store.
Etsy, meanwhile, capitalizes on a chance to interact with consumers one-on-one. Its top designers gain great exposure, and consumers unfamiliar with Etsy have a chance to get acquainted with its offerings, which strengthen the brand's activations among shoppers.
And, because Etsy offers the best of the best in its pop-up shops, the perceived quality of its retail offerings gets a great boost.
In the end, Etsy and Macy's each have assets that the other one wants. This partnership allows these brands to swap certain benefits, creating a retail win-win–and, for consumers, an in–store experience that's hard to beat.
I live in the one of the most beautiful places in the world on the Sunshine Coast in Australia with my wife and our 2 dogs, Poppy and Mia. Since 2009 I have helped over 15,000 handmade business owners to grow their business with our software and
free tools
designed for todays entrepreneurial artisan.
Latest posts by Gary Capps (see all)