Product photography is important to any e-commerce website. Of course, the more striking your photos look to shoppers, the more confident they'll feel about purchasing from you and the better your conversion rate will be.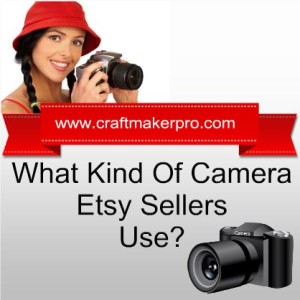 While there is Photoshop and free editing apps you can use to enhance your photos, getting to know the cameras that Etsy sellers use might help you pick the right tool if you're planning to buy one.
Take a peek on their Etsy stores and see how their cameras work for their products. It might work you too.
DSLRs
Digital Cameras And Mobile Phones
It's nice to have a good camera to take a shot of your products but remember, it is not always the camera but the creative mind behind it that makes a great product shot. It is not the piano, not the paint brush, not the drum, not the pen and paper, etc….. that makes great artists, it's the people behind them.
In addition, great photos require craft photography training, dedication and hard work. Where to begin? right where you are. At
Craft Maker Pro, we have a huge list of photography tips to get you started. Check it out and enjoy the course.
So what kind of camera do you shoot with? Leave a comment below and let me know what you've got in your bag.
Keep at it. Happy shooting!
I live in the one of the most beautiful places in the world on the Sunshine Coast in Australia with my wife and our 2 dogs, Poppy and Mia. Since 2009 I have helped over 15,000 handmade business owners to grow their business with our software and
free tools
designed for todays entrepreneurial artisan.
Latest posts by Gary Capps (see all)