Are you looking for easy ways to help you grow and manage your Etsy business?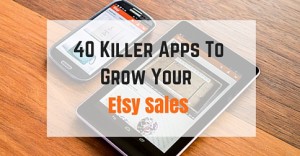 Using the best tools available can really help you to automate many of the mundane tasks that take hours away from the thing that makes you money, creating.
The key to making the most of Etsy lies in apps, add-ons and integration that offer features and functionality above and beyond the basic Etsy setup. From inventory management to social media marketing and sales tax calculation, you'll find tools here to help you both manage and grow your Etsy business.
Below, you'll find a hand-picked list of 40 of the most useful Etsy apps.
Useful Apps For Etsy
1. The Etsy Bazaar
The Etsy Bazaar is an app that allows you browse the world of Etsy with ease. It is a simple and easy to use to discover shops and listings on Etsy.
2. Etsy On Sale
Etsy On Sale is like an all-in-one app for Etsians. It allows you to manage automated sales events, schedule shop listing renewals, edit tags with just a few simple clicks, and manage multiple shops in one Etsy On Sale account.
3. Crafthub.me
Crafthub.me is an automated digital file delivery for your download items. You need to link your etsy shop and upload your files. Your customers will receive an e-mail with links to download their items a few moments after their transaction is complete and payment is received.
4. Craft Task Manager
Craft Task Manager is an Etsy sellers iPhone/iPad app that can be used to track the status of individual items within your orders. As individual items are ready they can be ticked off, making it easy to see which orders are ready to ship.
5. IFTTT
IFTTT allows you to create and share IFTTT Recipes that automate posts, sync content, archive data, and much more.
6. Etsy Fan
Etsy Fan is an app for your android device. It gives you quick access to your transactions, mark them as paid/shipped. Keep track of your listings, edit them and create new listings, as well as re-list them.
Email Marketing Apps For Etsy
7. Mad Mimi
Mad Mimi is a good match for Etsy sellers as it allows Etsy integration. Etsy sellers can drag and drop their product images and descriptions directly into their Mad Mimi newsletter via a simple and intuitive interface.
8. Etsy Email App
Etsy Email App is an efficient marketing tool for Etsy sellers to get more exposure and increase your sales. It allows you to promote your latest Etsy items in your emails.
9. Respondify
Respondify will help you increase revenue with personalized emails to your customers. Its features will allow you to automatically send event-triggered messages to your customers, which can help improve conversion rates and increase feedback.
Marketing Apps For Etsy
10. Shopseen
Shopseen will help you enter products, get them listed anywhere you sell including Etsy, get them promoted everywhere your customers are, and get your products shipped out the door – from your laptop or your phone.
11. EtsySales Map
EtsySales Map creates a map showing where your customers are. The map will be updated nightly, so you can return to view your progress or even embed the map in your own website or blog.
12. Cr8tivity
Cr8tivity provides marketing and sales tools for your Etsy shop, scrolling widgets for your blog, and create product flyers for your shop.
13. Merchpin
Merchpin is a self-service merchandizing platform for brands and marketers. Itsyncs with any store, cart, feed or file.
14. Merchpin
PopWatchers shows the most popular items from the most trusted sites on one page. They have partnered with sites such as eBay, Amazon, Best Buy, Etsy, Zappos, Oodle, &Bonanzle to make their customers able to get to the great stuff quicker.
Etsy Listings Renewal Apps
15. The Statsy Clockbot
The Statsy Clockbot is important for shop upkeep. Itis a renewing tool that is easy to use and can automatically renew your listings for you.
16. Best Auto Renew
Best Auto Renew is a simple and automatic renew tool where Etsy sellers can schedule their listing renewal to improve your exposure and sales.
Social Media Apps For Etsy
17. OrangeTwig
OrangeTwig allows you to import your store to Facebook in just 2-steps. It is a free app that features daily automatic sync plus immediate manual sync with your Etsy account.
18. Etsy Items
Etsy Items allows you to sell your Etsy products on Facebook. This app installs an Etsy store on your Facebook page in few clicks.
19. Around.io
Around.io is an app made for Etsy sellers who understand how much time can be saved if social media postings are planned and scheduled ahead of time.
20. Social Rebate®
Social Rebate® provides a social commerce platform for online retailers to help increase social sharing and customer referrals from social media to your eCommerce stores.
21. Etsy-fu
Etsy-fu schedule automatic tweets to promote your Etsy listings.A random listing from your shop will be tweeted according to your schedule.
22. StoreWoot
StoreWoot allows you to promote your products on Pinterest, get more traffic from Pinterest and increase sales.
23. StoreWoot
Commonplace lets Etsy shop owners deeply engage customers with a social shopping experience.
24. Etsy Social Shop
Etsy Social Shop allows you to sell your products on Facebook for free. You can customize your shop by uploading your logo, welcome message and set your own brand color.
25. Fanchimp
Fanchimp supports online shops by driving product sales via your Facebook & Twitter communications.
Photography Editing Apps
26. Picture Flow
Picture Flow is a free iPad app for Etsy fans. It allows you to change the frame colors, add the date and time to show automatically and works in both landscape and portrait mode.
27. Shoop! e-Commerce Assistant
Shoop! e-Commerce Assistant is an e-commerce productivity app that saves you time so you can focus on your e-commerce marketing more. It allows you to take a picture of your product, edit the picture, enter details and description, and then upload your products.
28. Canva
My personal favourite. Canva allows you to asily create beautiful designs + documents. Use Canva's drag-and-drop feature and professional layouts to design consistently stunning graphics.
Etsy Apps For Shipping Products
29. Shipworks
Shipworks will help you ship more in less time. It allows you to automate shipping tasks so that it only takes a few clicks to print shipping labels, send email notifications, update online order status, and more.
30. ShipSaver
With ShipSaver you can purchase full coverage shipping insurance for your Etsy items at substantially lower rates.
31. ShipRobot
ShipRobot is a web-based shipping solution for online merchants. It allows you to sync orders from your Etsy store in real-time and print a shipping label for an order with only a few clicks.
32. Shippo
Shippo makes shipments easy and affordable. Shippo integrates your Etsy orders and allows you to print labels with one click.
33. TrueShip
TrueShip sets up in minutes and delivers a user-friendly interface to quickly manage and ship orders.
34. Shiplark
Shiplark integrates your Etsy store with your shipping providers so you can ship faster.
35. 71lbs
71lbs is a "set-and-forget" system that allows Etsy sellers to easily collect on your FedEx & UPS "late" refunds.
36. ShippingEasy
ShippingEasy ensures your orders are shipped, tracked and reported on. REAL TIME UPDATES back to your Etsy store, including shipping status and tracking numbers.
Time Saver Etsy Apps
37. ShopShaper
ShopShaper lets you edit titles, descriptions, tags, prices, processing times, images, materials, shipping templates, etc. of active, inactive, expired, and draft listings.
38. Fulfillrite
Fulfillrite integrates your Etsy store with this order fulfillment service. Once set up, it allows you to automatically send the app orders to be shipped.
39. Craftcount
Craftcount tracks Etsy top sellers via the sales count in every category and country, updated every 24 hours.
Lastly,
40. Craft Maker Pro
Love your own, right? But it's not just about "love your own", Craft Maker Pro helps you automate your business, saving you time and money – Guaranteed! You can see what I mean here.
There are more apps that will help you in other things such as in social media, sales, email marketing, shipping, photo editing, website, and many more; but I've just chosen the ones that I think are more useful to artists.
If you need a particular app or if you've found a really good one, please let us know in the comment box below. Have a great day!
I live in the one of the most beautiful places in the world on the Sunshine Coast in Australia with my wife and our 2 dogs, Poppy and Mia. Since 2009 I have helped over 15,000 handmade business owners to grow their business with our software and
free tools
designed for todays entrepreneurial artisan.
Latest posts by Gary Capps (see all)