Are you looking for new opportunities to showcase your creativity and create more handmade products? Kickstarter might be the right platform for you.
What is Kickstarter?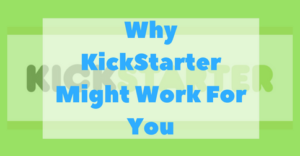 Kickstarter allows you to create something new to share with others. A project has a clear goal, like making a scrapbook, a book, or a work of art. A project will eventually be finished, and a thing can be created by it.
It is also a crowd funding platform. The financing target is the sum of cash that a maker should complete their project. Nobody will be billed for a pledge about a project except if it meets its funding goal. By doing this, makers always come with the finances they scoped out just before continuing.
Kickstarter is a transparent system and this is by most accounts the platform with the highest possible rates of success.
As of May 2017, $3,050,633,581 total dollars has been pledged to Kickstarter projects and there are 124,983 successfully funded projects.
Total backers: 12,918,993
Repeat backers: 4,141,955
Kickstarter has very strict rules when it comes to launching projects. If you want to present a project on Kickstarter, you should already come with a prototype ready; Kickstarter does not let you showcase a campaign that is still under planning. So show your prototype first before starting a campaign.
What Products Are Allowed?
So what kinds of products work best for crowd-funding?
Choosing the best product to crowd-fund is the most vital part of the crowd-funding process. And the most essential part of selecting the best item is discovering something that greatly interest a certain target audience.
To start with, you have to be crowd-funding for a particular item, not to launch a shop selling several items.
There's a good reason that you simply make items, not shops launched on the biggest crowd-funding systems. Individuals prefer to support substantial items, certainly not a great idea for a business.
If you wish to get your business initiated with crowd-funding, then you need to campaign with your finest product, be it a doll, an electronic, or a craft. You could try to develop a shop for associated items later on, but you must only branch out right after your product has totally blasted off.
You should also be targeting your product towards a specific audience.
A great deal of the appeal of crowd-funding is being linked directly with people who are going to become your patrons. You're avoiding the local bank to connect with people instantly because the bank does not know the item and the number of individuals who desire the item.
Here are a few kickstarter campaigns related to handmade:
But in order to get supporters to begin with, your item needs to be a thing that is not common and can't be found at Etsy, Handmade at Amazon, and not readily available online. There needs to be a community that yearns for your product for a problem that's not being addressed today.
There are numbers of communities that you can easily aim at. Think in regards to niches: possibly there's an inconvenience pestering anybody who weaves; perhaps squash gamers have a consistent unmet need; traveling is still pretty uncomfortable.
Ideally, it helps if you are really dying to obtain a product yourself. Possibilities are, there are really individuals similar to you who want precisely the exact same thing. Go out there to make the prototype as well as tap into that need.
The Downside
Even the moment you're completely financed, you could still fail simply by being not able to develop the product with the money you possess. If you're constantly late or do not provide, then your community can turn; then you'll have not supporters but haters. A number of creators have actually dealt with dangers and harassment right after they kept missing out on their own due dates when it comes to providing rewards.
But do not hesitate. It's not all a matter of chance. The ability of operating a project could be mastered. You've just got to present the appropriate item.
I live in the one of the most beautiful places in the world on the Sunshine Coast in Australia with my wife and our 2 dogs, Poppy and Mia. Since 2009 I have helped over 15,000 handmade business owners to grow their business with our software and
free tools
designed for todays entrepreneurial artisan.
Latest posts by Gary Capps (see all)