Do you have a social media page for your brand and products? Are you wondering what you can do to make your posts interesting to your audience?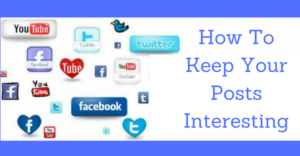 We have some tips for you!
The content you share on social media doesn't always have to link back to the products and services you offer on Etsy, eBay or your personal online store. In fact, incredibly boring social channels are those that broadcast marketing messages about products or services that don't involve conversation-worthy topics. Instead, an exceptional social media marketer posts new topics that their audiences finds interesting.
If you want an example, Three Bird Nest, a popular Etsy clothing brand, is an expert in this strategy. The business doesn't just talk about its creations. Instead, it offers fun and positive captions to its posts that audience enjoy discussing.
Another example that is not handmade related but a good source of ideas is the Rosetta Stone, a language learning software. They post social media updates about international travel and culture, research on learning theory, and information about famous multilingual people. Rosetta Stone realizes that its audience doesn't want to talk about its software on the social web; its followers are much more likely to discuss German music, Celtic culture, or how the brain works.
Think about how your own business can expand conversation beyond the confines of the products and services that you sell. Research and map the topics that are relevant to your audience and what interests them outside your specific niche.
Also, don't forget to check the best and worst times to post on social media.
If you want to get more tips, watch this video by Pamela Herrmann about making good posts on Facebook that grab attention, likes, and get engagement:

How about you? How do you keep your posts interesting to your audience?
I live in the one of the most beautiful places in the world on the Sunshine Coast in Australia with my wife and our 2 dogs, Poppy and Mia. Since 2009 I have helped over 15,000 handmade business owners to grow their business with our software and
free tools
designed for todays entrepreneurial artisan.
Latest posts by Gary Capps (see all)