No Serial Number (noserialnumber.com) is a quarterly e-magazine about eco-crafts and sustainable design. Its target audience are designers, artisans, artists and buyers of handmade. In our first year, No Serial Number has met hundreds of makers passionate about crafts and the environment, who combine these two passions with extraordinary creativity. After all, what else would you expect from a crafter?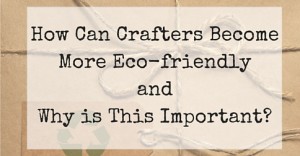 In a world facing severe environmental challenges, we believe that small craft businesses aren't 'just' an alternative to buying industrial mass scale products. Rather, we believe that talented craftspeople and small manufacturers are carrying out a 'small-scale revolution' that can play a vital role in changing consumer attitudes and raising awareness of this environmental crisis.
Increasingly, we see small creative businesses and designer-makers networking online, sharing eco-friendly practices and building connections in order to produce according to environmental principles that corporate giants often fail to comply with. This is a reason why No Serial Number e-Magazine is dedicated to promote and expand the market for handmade and artisanal work.
So how can crafters be eco friendly? Here's our list of suggestions to celebrate the first anniversary of this new eclectic magazine.
1. Cut out plastic from your craft work
According to an article recently published by the World Economic Forum and a film by non-profit organization
Plastic Oceans, there will soon be more plastic than fish in the sea. Recycling plastic is extremely complex (watch this infographic for example to see exactly how complex it is) and not necessarily environmental.
So our advice is, don't use materials that include synthetic polyesters or any other synthetics in your makes, purchase supplies from renewable plant materials instead. This is the message that the makers we've talked to are giving us.
Even just by choosing to remove plastic from all our crafts and letting people know why we're doing it, we can all help change the way plastic is viewed and used in our everyday life. If we contribute to create a culture in which customers frown upon the use of synthetics, then big businesses will follow.
2. Source Local
When you buy raw materials, search around and see if it is possible to purchase supplies that have been produced locally, or produced with locally grown materials.
This will not only encourage your local economy but also make sure that you reduce the carbon footprint of your makes. And why not let your costumers know about it? Many customers are becoming more aware and appreciate the extra effort of businesses that want to become more eco friendly.
We have recently written an article in which we asked six creative businesses to tell us about their experiences of sourcing locally, what are the challenges and what are the possible solutions? And to get an idea of how original you can be, look at how this lady started to grow her own bamboo bikes.
3. Recycle and Up-Cycle
Make the most of what we already have. While the fashion world has now become much more open to recycling and up-cycling, the craft world seems to be less involved in this process of reinventing from already used materials. Eco-fashion designer and consultant, Lanni Lantto, rightly points out, "inspiration can come from any material at any time". A participant in a recent survey that we carried out said, "breathe new life into something old or discarded. You will be amazed at the beauty that can be untapped."
Artisans and designers recycle in very different ways. Some recycle old knits, others recycle car seatbelts from the scrapyard, some dye with natural colours on vintage fabrics. We also found other artisans who make paper out of recycled cotton, illustrations out of scraps of magazines and even yarn out of recycled plastic.
We also talked to artists who salvage garbage from the sea or from their local woods to make their art, see for example artists Alice Meynell and Rosalind Pounder in the UK.
4. Use natural dyes and water-based dyes
Opt for more eco-friendly alternatives when looking for paints. When possible, learn to make dyes and colours with plant-based materials such as roots, flowers, leaves and food by-products like onionskins.
You'd be surprised to learn how much can be done from the kitchen without the use of toxic mordants (mordants are those substances that are often added during dying or printing to fix the colours on the textile). There is an entire section on our blog dedicated to natural colours on textiles as well as on paper.
5. Look at the complete life cycle of your product
Another really important eco advice for crafters comes from designer and eco consultant Tati Guimarães of Ciclus Ecodesign.
During an interview, she explained how she is always training businesses and individuals to look at the entire life cycle of the product they want to create.
Will you use durable materials? Are these materials compostable or easily recyclable? Which components are not compostable and what alternative uses could these have once the life of your product comes to an end?
6. Recycle stationery and find ecological packaging
We know that packaging is essential for a creative business that sells online. First, you have to make sure that your product reaches the customer in good conditions and second, ideally the packaging should look professional and reflect the beauty of what's inside.
There are however various options for filling your parcels with biodegradable alternatives, meaning mainly without plastic bubble wrap. In the past, I've purchased from a number of proud earth friendly companies who used biodegradable materials in their packaging.
Alternatively, you can network with local businesses and source from them any discarded (possibly natural) materials suitable for packaging such as felted wool. Also, we recently wrote an article about alternatives to wrapping paper.
7. Limit waste by reusing everything
Another simple yet effective idea is to find strategies to limit waste, which is mainly achieved by reusing everything you've got (when possible, even water).
A popular article on our blog showed an idea to recycle the smallest scraps of fabrics. We also had a chance to have a chat with Kimberley of Filthy Squirrel Clothing, who after studying the amount of clothes wasted by big businesses decided to implement a 'no waste' approach in her brand.
8. Join sustainable craft groups
One of the most popular pieces of advice that we've received so far was to encourafe crafters to collaborate and network with other crafters and gather information to advance their eco-practices. There are a few websites, forums and groups out there dedicated to this, like our 'promote your business' group on Facebook.
We hope these simple tips were useful, if you'd like to have your say, you can join our social media pages. Also, if you subscribe to our newsletter, you will receive free instant access to read the latest issue of No Serial Number e-magazine.
Guest post by Francesca Palange
No Serial Number -emagazine
I live in the one of the most beautiful places in the world on the Sunshine Coast in Australia with my wife and our 2 dogs, Poppy and Mia. Since 2009 I have helped over 15,000 handmade business owners to grow their business with our software and
free tools
designed for todays entrepreneurial artisan.
Latest posts by Gary Capps (see all)