If you missed my first post about Handmade at Amazon, it is a new store for invited artisans to sell their unique, handcrafted goods. Amazon published an introductory landing page with more information – including seller fees.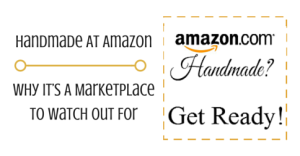 Handmade at Amazon may be one of the many sellers who received an invite from Amazon to sign up to learn more about a new store for handmade goods. But is it for everyone?
"Handmade is an invite-only community of hand-selected artisans," the email explained. "To be considered to sell at Handmade and join in on our debut – we need a little more information from you. Please take a moment to apply, introduce yourself and tell us more about your products."
Key features and benefits of selling on Handmade include access to over 250 million Amazon customers, it said, along with convenient support via phone and email. It also said sellers could earn up to 10% back on Amazon sales generated from their personal website by joining the Amazon Associates program.
So what are its other unique features?
When you set up shop, you'll create an Artisan Profile page to tell customers your story with beautiful imagery and plenty of room to describe your craft.
You'll also set up pages for each of your products, featuring stunning images and new customization features so customers can explore everything you have to offer.
Sellers will also have up to 30 days to ship items. Products that aren't customizable are eligible for Amazon Prime if sellers use Fulfillment By Amazon (FBA), a program in which sellers send their inventory to Amazon's fulfillment center.
All Handmade at Amazon artisans must have a Professional Seller account. The current $39.99 monthly Professional Selling Plan subscription fee is waived through August 1, 2016 for artisans – but those who sell more than 40 items in categories other than Handmade at Amazon categories in a month will not be eligible for the subscription fee waiver.
In addition, they pay a 12% Referral Fee (a minimum of 50 cents per item).
Etsy long had a policy that required all items to be handmade by the seller with no assistance, but this year broadened its definition of handmade – a policy that has been unpopular with certain members.
Check this video to learn more about Handmade at Amazon:

As for when Amazon might officially launch Handmade – what it might look like and how interested sellers might get themselves involved – is anyone's guess right now. The big part of the equation is still Amazon's potential pricing model for the new section. If Amazon still hopes to take around a 15% or so cut, on average, of sellers' sales, that's going to be a pretty big problem when you compare it to Etsy's more meager 3.5-percent commission (and 20-cent listing fee).
Amazon hasn't teased any fee details just yet. Even if the retail giant did come in a little higher than Etsy (say, five percent), that could always be offset for sellers by the sheer volume of items they might be able to sell on Amazon.
So for now, do you think you'll be comfortable in selling in this new platform? What are your thoughts about it? Please let us know in the comment box below.
I live in the one of the most beautiful places in the world on the Sunshine Coast in Australia with my wife and our 2 dogs, Poppy and Mia. Since 2009 I have helped over 15,000 handmade business owners to grow their business with our software and
free tools
designed for todays entrepreneurial artisan.
Latest posts by Gary Capps (see all)