Branding is much more than just making your pages look good, it's also about creating an experience for shoppers, making everything flow together so that the viewer's eyes don't have to hop around the page, and optimizing your page or website to convert viewers into buyers.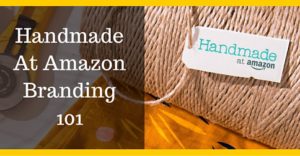 Handmade at Amazon's search result algorithm tries to determine how relevant products are to what was being searched for, and relevancy comes down to basically two things for Amazon – what the product is and how customers respond to it.
Though not ideal, with exceptionally high fees unfavorable to the micro business, Amazon may prove to be the competition needed to bring Etsy to heel. So build your brand on this platform now.
Here's a video by Handmade Seller Magazine about branding your Handmade at Amazon Profile

This video did touch on some core principles to keep in mind when setting up your Handmade at Amazon page. You want your page to be appealing, you want your buyers to feel a connection to you, and you want to present yourself as an expert while also making your products look amazing.
There's lots to consider, but use the great examples in the video to help you visualize how a page should be laid out.
I live in the one of the most beautiful places in the world on the Sunshine Coast in Australia with my wife and our 2 dogs, Poppy and Mia. Since 2009 I have helped over 15,000 handmade business owners to grow their business with our software and
free tools
designed for todays entrepreneurial artisan.
Latest posts by Gary Capps (see all)