During craft shows, making marvelous handicrafts is only half the battle; the other half is getting the attention of your target audience. But it shouldn't break the bank. Master the art of DIYs by incorporating it to your display materials.
You will not only enjoy doing it but it will also boost the appearance of your handmade itemsattracting more customers to your booth.
Here is a great collection of DIY craft show display tutorials:
Make your own necklace display tutorial by Jewelry Making Journal
Unique craft fair jewelry stand tutorial by Terra Rustica Design
DIY craft show earring display tutorial by Birdy Chat
Bracelet display tutorial by Infarrantly Creative
DIY Ring holder from high heel tutorial by The Toasted Coconut
Inexpensive but really cool DIY jewelry display idea by Tasha McKelvey
Recycled craft show display tutorial by Whipper Berry
Chalkboard paint on silver tray tutorial by Black Flipflops
Mini chalkboard labels tutorial by Little Bit Funky
DIY dyed clothespins tutorial great for displaying pictures, price tags, cards, etc. by Kojo Designs
Make your own labels by Tutorial Adventures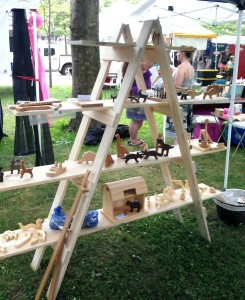 Learn how to make portable tables for craft shows from Mama Made Them
DIY mini ladder shelf tutorial by Sawdust and Embryos
Collapsible Workbench tutorial from Instructables
More DIY Tutorials:
In addition, you will learn more when you explore the possibilities so head out to yard sales, thrift stores, used furniture stores, anything you can think of and see what you can find. You don't need to spend a lot of money when you are a creative person. (You are a creative person! You make creative things all the time!)
Once you start thinking about displaying your work, you'll start finding all kinds of ideas all over the place!
That's all for now. Happy crafting!
I live in the one of the most beautiful places in the world on the Sunshine Coast in Australia with my wife and our 2 dogs, Poppy and Mia. Since 2009 I have helped over 15,000 handmade business owners to grow their business with our software and
free tools
designed for todays entrepreneurial artisan.
Latest posts by Gary Capps (see all)