So what's the difference between customer service and customer experience. Aren't they the same thing?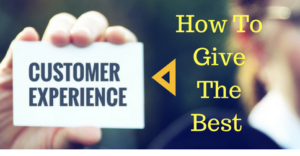 Absolutely not.
Why? Let me explain. And I'll simplify it for you and it will stay in your mind.
Customer Service
Customer service could be when a client is upset, you handle it, you react, you solve. With customer service you say things like:
Thank you
Please
May I please put you on hold?
Thank you for understanding.
I totally understand where you're coming from. I totally feel your pain. I'm sorry.
It's apologetic.
It's customer service, because it's reactive to something, right?
Customer Experience
With customer experience, I'm asked how my day is going, or they may say something like, "By the way, thank you for your loyalty. I can see you've been with us for ten years. We appreciate your loyalty."
Sephora is a great example of customer experience. Ladies who are part of their Beauty Insider get samples sent to them before everybody else.
So how can this help your online business?
One of the best exercises for you to do is make a list of companies or businesses that you go back to over and over and over again, and ask yourself why.
On the left, list five companies you return to again and again, and on the right write the reason for doing so.
For instance, on the left write, "I go to this restaurant at least once a week" and on the right write, "I go there because …"
The thing that goes into the blank is generally one of these six reasons. They will give you a lot of clues to improve your handmade business.
#1: Fast – 0:38
#2: Quality – 0:49
#3: Cheap – 0:57
#4: Luxury – 1:10
#5: User Friendly – 1:23
#6: Customer Service – 1:38
Then, for your own business, ask yourself, "What can I do to take my customer service to a whole different level, to add customer experience to my business and to get more customers?" That in itself is going to make you a lot of sales, depending on how big you want to build it.
It will do you very well growth wise. People will want to do business with you over and over again, and your business will definitely grow.
I live in the one of the most beautiful places in the world on the Sunshine Coast in Australia with my wife and our 2 dogs, Poppy and Mia. Since 2009 I have helped over 15,000 handmade business owners to grow their business with our software and
free tools
designed for todays entrepreneurial artisan.
Latest posts by Gary Capps (see all)