Are you wondering what it takes to get featured in the pages of your favorite crafts and arts magazine?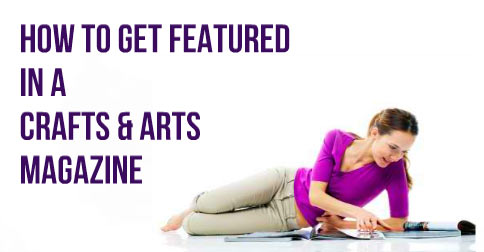 No other publication validates your product like this one. One Etsy seller doubled her sales in one month. Another entrepreneur increased her sales by 60% in 30 days. And you might be the next one.
There is room for everyone if you have the right approach and something newsworthy to pitch.
Here are things you need to know to be featured on your favorite magazines:
1. Popularity
Create a buzz for your handmade business. Very often magazines will have a look at your following and popularity as a factor to featuring you. Unless of course they fall in love with your work and then they won't care about your followings.
Tagging can help you boost your online presence. You can also make more sales using Etsy tags but you need to know more about keyword research to see the best tags you can use for your business.Use keywords like colors included in the item, the pattern of the fabric, the season, etc. Many of these terms will better assist people in finding your items.
2. Photographs
I cannot stress photographs enough. Good clear photos from several angles help everyone see your items better. If you are in poor lighting you can find tutorials on how to make your own lightbox on a budget.
3. Press Release And Your Basic Information
Tell them all about yourself, what you are doing and your website where people can buy online. Sending a properly written press release with your products' photos can work, but bear in mind, that most handmade artists are doing it, there's a lot of competition for limited promotional space – according to one national fashion mag style editor, she received somewhere in the region of 3-400 press releases per week to sort through.
But don't worry, keep sending to specific magazines and address each magazine separately. Do things that most of your competitions are not doing such as complying with distance selling regulations and sending samples.
Make sure that your website complies with distance selling regulations – you need to have terms and conditions, and a geographic address published.Keep in mind that your website needs to comply with all of the DSR's before any magazine will entertain the thought of effectively 'recommending' you to their readers via a featured product.
4. Samples
It is also important to send them a sample of your work;these people want to make sure that what they are recommending is safe for their audience. Send samples and information about the product to the editor or better, to the person that does product reviews. Then follow up with a call to see if they received it. You can even send your press release along with the samples.
If they don't respond, keep trying. They have 100's and 100's of requests daily so you have to be persistent.
5. Letters to the Editor
If they don't respond, you might want to consider appearing on the "letters to the editor's" page. Read the publications you want to be featured in, and start sending in your comments about articles and features to the Editor. In the beginning of every magazine they have reader letters, you can have your letter printed, with your name and website URL!
Make sure you take the time to personalize your pitch by knowing the correct editor's full name and deadlines for publications.
Realistically, it may take you months or years to get published in your favorite magazine. But I have never met a single person who said it wasn't worth the wait. Good luck!
I live in the one of the most beautiful places in the world on the Sunshine Coast in Australia with my wife and our 2 dogs, Poppy and Mia. Since 2009 I have helped over 15,000 handmade business owners to grow their business with our software and
free tools
designed for todays entrepreneurial artisan.
Latest posts by Gary Capps (see all)