Are you looking for a surefire way to get more Facebook likes for your handmade business' page?
One of the fastest methods to start advertising your Facebook page so as to get more followers as well as visibility for your products is to make use of the Get More Page Likes advertising and marketing option.
In order to do that, you'll first have to browse your Facebook page and be logged in as an admin or manager with advertising privileges. Log in to your Facebook page. Now on the right hand part, there's an option called Promote Page.
This particular option might be in a different area of your Facebook page based on the number of likes you possess and whether or not you're making use of the Activity Monitor. Within our Craft Maker Pro page, you can easily find an Advertise button at the lower left side of the page.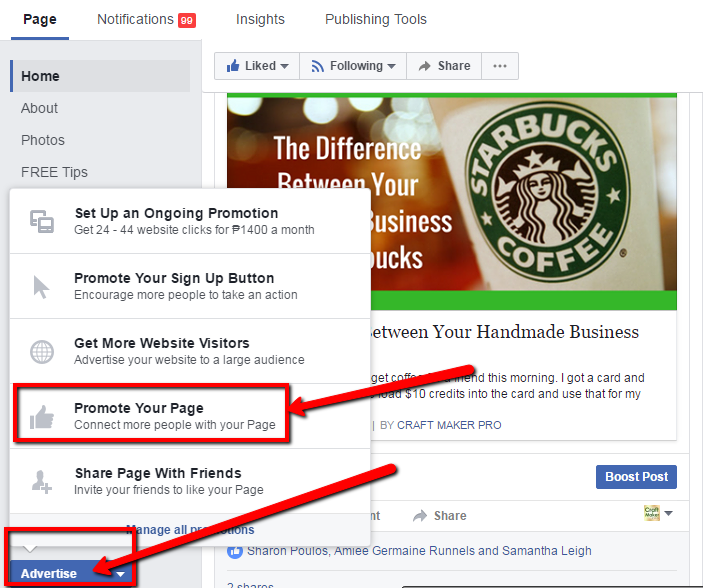 No matter where you spot the Promote Page, the choices that turn up will be the same. Proceed and click the Promote Page key. When the Promote Page window shows up, you'll view a list of similarities to the Ad Create tool.
This is basically a mini version of that part, other than that we've acquired our predefined goal to obtain more Page Likes.
Facebook immediately produces a sneak peek of your advertisement, and it accomplishes this simply by drawing the cover photo for your page together with other relevant information you have already provided in the About section.
If you want to change your positioning, the picture assets and even the copy, you can easily click the Edit option in the AD CREATIVE section. You'll also have the ability to include a Location, Interests, and other demographic details for this advertisement.
One thing I want to explain that is actually different in the Daily Budget window is the Approximated 6-23 likes daily. Facebook predicts that if you have a Daily Budget of 10 dollars, you'll receive between 6 to 23 likes every day or your page. If you modify a few of the requirements, in this case, let's add Adidas as an interest, here we find the estimation has raised to 10 to 38 likes daily.
Make use of this as a quick guide, but it's definitely not a promise. This Promote Page option is a fantastic and surefire way to start developing more visibility for your business page, and also it never harms to perform a Facebook likes advertisement campaign in conjunction with your other campaigns. If this matches your tactic, go on and establish one up.
I live in the one of the most beautiful places in the world on the Sunshine Coast in Australia with my wife and our 2 dogs, Poppy and Mia. Since 2009 I have helped over 15,000 handmade business owners to grow their business with our software and
free tools
designed for todays entrepreneurial artisan.
Latest posts by Gary Capps (see all)