Are you wondering why these people are sharing their secrets? Do you think they're just making their business vulnerable to their competitors and even making themselves a catalyst of new competitions?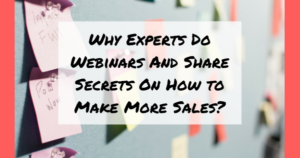 A super common question that I get asked here at Craft Maker Pro, is why do I give a free ebook about the "secrets" on how to get more customers and make more sales?
A lot of people say things like…
"If it's so profitable, why do people teach others how to copy their businesses?"
"If I knew how to make $10,000 a month, I wouldn't reveal it in a free e-book!"
If webinars share secrets on how to make a successful business, won't we saturate the business model with a flood of competitors, making it no longer worth doing?
Talking about saturation!
These questions make sense because we have seen some niches become saturated and no longer profitable due to a flood of competition. A good example is: Selling items from China on ebay and Amazon, causing a flood of competitors. As a result, the prices of products have to be lowered to stay relevant.
However, for many other business models (including the ones we teach on this site: Etsy, online stores with handmade products, Handmade at Amazon, etc) this isn't a problem because of two reasons:
Entry Obstacles
Market Exponential Growth
1. Entry Obstacles
If you want to sell your handmade products, all you need to do is start your own website or online store. There is a lot of work involved, but anyone can do it: meaning there are less obstacles to get started. But if you want to sell in a marketplace with solid site visitors, then you'll need to sell on online marketplaces like Etsy and Handmade at Amazon.
There is little worked involved but these sites screens their vendors systematically to ensure they are selling authentic handmade pieces (not mass-produced items) and it massively limits how many people are willing to try the business model.
2. Market Exponential Growth
Let's talk about Facebook as an example and see how it's growing at an fast rate:
We all know that Facebook acquired a lot of new users in the past years. In addition, Etsy and Amazon increased their revenues each year.
When you look at exponential growth with entry obstacles together, it means that competition saturation isn't a true concern, leaving plenty of room for new sellers/competitors to enter the marketplace.
With that in mind, course creators aren't afraid of creating new competitors. Which means, creating & providing ebooks, courses, and making webinars (whether its free or paid) helps you create a new business to help with – income diversification.
Income Diversification
If you are just starting your business, this could be difficult to apply in your strategies. You need to focus on your business growth first but once you've done that, and you have a successful store, then you should start thinking of diversifying your income by creating new businesses.
If you are afraid to try doing webinars, you can contact me and let's see if we can collaborate. You can also share your e-books and other content in our blog (as long as it's relevant to our audience!).
By starting providing blog articles, e-books and webinars here at Craft Maker Pro, we've acquired lots of new skills:
We got the chance to meet marketers and hobbyists
We learned how to create engaging posts.
We discovered what our customers need.
We've gained more experience with email marketing, etc.
Not only can we ever use these skills to make money in case something ever happens to our product, but we have been able to use them to make us even BETTER at those two business models.
So it isn't some big conspiracy. The honest reason why we create webinars and blog content is because we know:
That there is plenty of room for new sellers to enter the marketplace that we teach/coach. We aren't afraid of saturation.
We need to have multiple streams of income/skills to be future-proof.
Plus, there is one other reason that we like to create webinars and blog posts – YOU!
Our readers make it very rewarding and fun! When you leave kind comments, it makes us really happy. So thank you to all subscribers of our blog, we very much appreciate your views and comments.
If you've got any questions please leave them in the comments section. We always try to answer as many as we can!
I live in the one of the most beautiful places in the world on the Sunshine Coast in Australia with my wife and our 2 dogs, Poppy and Mia. Since 2009 I have helped over 15,000 handmade business owners to grow their business with our software and
free tools
designed for todays entrepreneurial artisan.
Latest posts by Gary Capps (see all)