Are you looking for tips to effectively start an Etsy shop?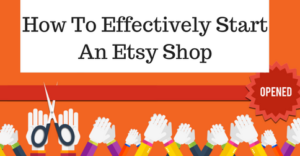 With the right product and a few key actions, you can be far more successful than than you may think.
Since it seems as if many of you are interested in opening Etsy shops, I thought it would be helpful to show you how to start an Etsy shop so you can open your shop with a bang.
Here are ten things you need to know:
Understand what you want to sell and how you're going to make it in case orders start pouring in.
Find your niche and determine what category your products belong to on Etsy.
Check your competition in the same category (What are their prices? How do they do shipping? What listing tags are they using? How can you stand out?)
Test your product pricing and check shipping options
Look for high quality and affordable shipping supplies
Take some good product photos
Check your shop banner, icon and photos
Write your shop Policies and About page
Set up your listings and organize shop sections
Open your shop!
That sounds really easy, right? But there are a lot of things to discover and learn.
With the help of Kendyll Hillegas, she will answer some great questions about running an Etsy shop, including:
Reproducing artwork
The process of making art prints
Packing & shipping with Etsy
Creating listings and improving search ranking
Generating shop traffic
General recommendations for Etsy newbies
Check this awesome video and enjoy!
That's it. Now that you heard these advice, start your Etsy shop and let us know what your shop's name is in the comment box below.
I live in the one of the most beautiful places in the world on the Sunshine Coast in Australia with my wife and our 2 dogs, Poppy and Mia. Since 2009 I have helped over 15,000 handmade business owners to grow their business with our software and
free tools
designed for todays entrepreneurial artisan.
Latest posts by Gary Capps (see all)