Being creative, the last thing you probably want to do is get intimate with your bank statements and bury yourself in spreadsheets and stacks of receipts.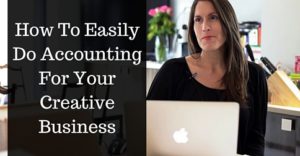 We all know how important keeping on top of our finances and taxes is to the success of our business, so it might seem a natural next step to hire out your accounting to a professional if you don't want to do it yourself.
Your CPA can do this for you but it is much cheaper for you to do it on your own, as CPAs charge by the hour. Since they don't know what your purchases were for, they will have to take more time to figure out what you spent and why than you would if you did your accounting on your own.
There are serious advantages to doing your accounting yourself, with guidance from a CPA, versus ignoring your accounting or hiring it out completely. Entering your receipts into your accounting software on your own as well as reconciling your accounts yourself gives you a chance to re-examine your purchases and income for the month.
You can ask fellow business owners or use a site like DaveRamsey.com to find accountants that match your values and your business type. You can also choose CPA that's your friend or near to your location.
In the beginning, the going might be difficult. If you aren't already using accounting software, you will need to invest some time in learning the software as well as purchase a software solution. Your CPA may be able to offer advice on how to get discounted software and what type of software package is right for you.
A Certified Public Accountant (CPA) can help you with:
A CPA can help guide you in making financial decisions for your business that can affect your taxes, what type of business entity will best fit your business, how you pay yourself, how to properly reimburse yourself for business expenses, and assess your risk for audit.
A CPA can oversee your accounting and you can do monthly reviews with them as well. For the first months you can use QuickBooks, you and your CPA would meet online and review the entries, figure out any reconciliation problems, and identify areas I needed to be aware of in case of audit.
Regular meetings with the CPA can help you learn about proper accounting, such as how to properly reimburse yourself for expenses paid from a personal account. A CPA can also help you decide when it is time to put yourself on proper payroll and what type of business entity (Corporation, S or C Corporation, LLC, Sole Proprietor) is best for your business.
A CPA can teach you how to run reports in Quickbooks, such as Profit & Loss Statements, that you may need to conduct business activities, such as working with your bank to get a loan, applying for a grant, or personal finance needs like documenting your income so you can buy a car. Being involved with your books equips you with the knowledge about your business that will help you best make decisions and grow your business.
The benefits of doing your own books are saving money on data entry costs and having a much more in-depth knowledge of your business's finances and where you spend your money.
Most CPAs will offer a free consultation to start so they can get a feel for what you need and you can see if you like working with them.
Here are some things to ask your potential new CPA firm before hiring them:
Are they familiar with handmade businesses like yours?
Do they know how Etsy works? (or another online platform you are using to sell your work)
Are they familiar with working with Paypal or any online shopping carts that you use for your business?
How much do they charge per hour? And is there an associate in the firm you can work with at a lower rate after your books are set up?
How and when do they bill you?
Are they willing to train you on accounting software or to help you as you learn the software and about accounting?
Using a software program like Craft Maker Pro to manage your inventory and sales will also help to make this process much simpler.
Being able to account for all your inventory that you use and track sales all from insode one program can be more than enough to manage your year end financial reports for your business. It will even run a complete Profit & Loss report for you.
How about you? How are you doing with your accounting? Let us know in the comment box below and let's discuss what works better.
I live in the one of the most beautiful places in the world on the Sunshine Coast in Australia with my wife and our 2 dogs, Poppy and Mia. Since 2009 I have helped over 15,000 handmade business owners to grow their business with our software and
free tools
designed for todays entrepreneurial artisan.
Latest posts by Gary Capps (see all)