Look at the stacks on your desk, the deck in your drawer or the stash in your wallet. Business cards, in all sizes, shapes and colors, are everywhere.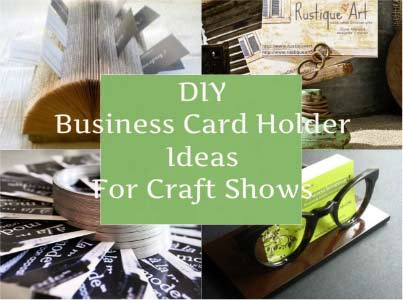 Your business card may be the most important advertising tool you have. Those little pieces pack a powerful punch simply because they're inexpensive and easy to get in front of people especially during craft shows.
However, you might wonder what you can do to make your customers notice your cards without forcing it. Use these pictures of business card holders below from creative craft show geniuses for inspiration and get an understanding of how different display materials and strategies work to create different effects.
These business card holders are easy to make and features striking designs:
Old Book
This old book business card holder idea from Craft Gawker looks great, practical and will take you no more than 15 minutes to make.
Vintage Glasses
This idea by SunshyneSilverwear lets you create a business card holder out of your vintage glasses frames.
Fork
As demonstrated by DinnerTimeChimes, this fork has been twisted and turned into an easel which is perfect for displaying business cards. Any slight flaws in the silverware only add to the charm.
Spoon
Jjevensen from Etsy gave us this idea. Vintage silver plated ice teaspoon is bent into a fun business card holder.Also, it works great as a smart phone holder when you get home after the craft show.
Scissors
This scissor card holder by Lovely Bohemian works great if you're crafts belong to categories like sewing, knitting, crocheting and the like.
Slinky
This idea from Makezine shows us the Slinky's are also fun and practical for your craft booth display.
Toy
This picture by Kevins Cabins from Etsy tells you that you can borrow your kids' toys to turn your business card holder cute and eye-catching.
Wood
This business card holder by Creative Woodcraft teaches us how we can transform an ordinary wood into something useful.
Wires
Every wire artist who sells their handmade jewelry should have business cards available at every event – what better way to showcase your business information than with a handmade wire wrapped business card holder? Your customers will make an instant connection with you and your craft. Designed by Albina Manning. From wire-sculpture.com.
Wire And Beads
Another design from Albina Manning.Customers of wires and beads will make an instant connection with you and your beading/jewelry business.
Picture Frame
This idea by ASplendidStory can help you transform your home pictures frames into a pretty business card holder.
Of course, a cool holder is useless without the hardware to back it up! You can also craft cool business card designs for your handmade business and get a stack of quality cards worthy of showing off.
So how did you like these holders? If you are done with your cards and its holder for the upcoming craft show, you may start planning your business card marketing strategy now.
Business cards aren't going out of circulation anytime soon. Take full advantage of this craft business booster by investing a little time and energy into making them work for you.
I live in the one of the most beautiful places in the world on the Sunshine Coast in Australia with my wife and our 2 dogs, Poppy and Mia. Since 2009 I have helped over 15,000 handmade business owners to grow their business with our software and
free tools
designed for todays entrepreneurial artisan.
Latest posts by Gary Capps (see all)