So you have a customer who bought multiple items already, and has a problem with every item. And this in turn, is what she is using to manipulate you. The person is making it clear, "if you don't do this, I will do this".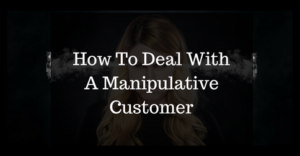 Can a shop, block a customer? If you are selling in an online marketplace like Etsy, Amazon, or Ebay, the answer is NO. But is there a best way to handle this? YES!
Bullies seem to be everywhere these days. It's a rampant atmosphere. You can't block them, but you can decline to do business with them, and that's exactly what you should do.
The very first thing you need to do is have a return or shop policy to guide customers and set limitations. But what if the manipulative customer is already there and you have not set your policy yet?
In my years of managing Craft Maker Pro, I have dealt a lot of customers and thankfully most of them are very eloquent and nice when asking for help. But that didn't save me from dealing with some manipulative customers. You will get a lot of ideas from Etsy forums and the tips below are somewhat similar to the things I did when dealing with manipulative customers.
Here are some tips from top Etsy sellers:
casi and nick from themetalmaison
"Refund/cancel any order she places. Do not continue shipping her orders out. Ask her to please stop contacting you further as you do not wish to continue doing business with her. If she keeps messaging you, report her to Etsy for harassment and mark her convos as spam from now on."
howtobooksandmore from howtobooksandmore
"Mark her convo as spam and report her to [email protected] There is nothing you can do to block a customer but etsy can."
Becke from BeckeandBailey
"You can't block a customer. Quit selling to her. Let her return the items at her expense, refund only purchase price. Keep all convos from her. Don't let her threats get to you. You can ask Etsy to remove three star or less reviews if it meets their requirements."
Breathe!!!!!!
Katherine from AntiqueAndBijou
"Not to worry about a bad review, either. Everyone gets unreasonable bad reviews at one point or another. If you have 500 reviews that are great, then the one bad review is going to reflect more on the reviewer than on your shop. Plus, I think most buyers do a search, see something they want, and buy it without ever looking at the reviews. Lots of buyers don't even read the descriptions."
To learn more, here is a video on how to deal with difficult customers in less than 2 minutes by Docstoc TV:
So how about you? Have you encountered a customer like this? How did you deal with it? Please let us know in the comments.
I live in the one of the most beautiful places in the world on the Sunshine Coast in Australia with my wife and our 2 dogs, Poppy and Mia. Since 2009 I have helped over 15,000 handmade business owners to grow their business with our software and
free tools
designed for todays entrepreneurial artisan.
Latest posts by Gary Capps (see all)