Are you looking for another online venue to sell your handmade goods? Dawanda might be the one for you.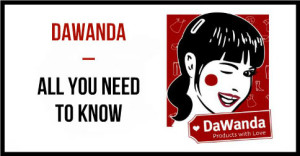 DaWanda is based in Germany and offers handmade products through its online marketplace platform. DaWanda has become one of the largest handmade marketplaces in the United Kingdom ever since its establishment in 2006. Also, it is getting more and more recognition due to their product selections, worldwide consumer base, and user-friendly interface, that it may just break through the United States market as word continues of its fame.
How It Works?
DaWanda is very customer-driven as to each page has been structured to help customers share, save, or "heart" shops and products. You will get a view of how many times the product has been viewed and to as how many people have added it to their favorites or "hearted" it on the right portion side of each product listing. You will be able to pull those handmade items up later on through your account when you get to "heart" those items. This is one of DaWanda'sfeature which makes customers avoid the hazard of browsing through online shops, trying to find their favorite items again.
You can use the search bar to find general product listings through the product selection or you can go to the advance link to carry out a more detailed hunt. Through the advanced search, you will be able to filter products by their category, price, color and country of origin and payment methods. You are also able to search for a particular shop or seller.
Each DaWanda seller has the option to suggest customizable products to their customers. The listing will generally have a "customizable" tag located on the top left corner. Links are included in most shops, so customers are able to communicate with the seller if they have inquiries or concerns. Always make sure that the seller is able to ship their merchandises to your country before adding items to your cart.
There are four distinct steps in the buying process of DaWanda: shopping cart, shipping information, payment information, and confirmation. And because there are different sellers who manage their own shop, you will have to do a completely different transaction for each shop. You may still add multiple items from different shops to your cart but the checkout transaction will still require you to finish different processes with each shop.
Selling Features
DaWanda allows handmade sellers to connect with artists from around the world. Anyone can create shops promoting their handmade items, but because this handmade marketplace is based out of Germany, that is where most of their clientele are located. If you speak or write German, you will have a huge advantage over other shops. DaWanda has an option that allows you to translate your pages if you choose to sell in the German market.
While there are currently no listing fees in the English platform, fees are included in the German and French platform. If you plan on selling items across all platforms, you'll have to pay the accompanied listing fee. DaWanda also states in their seller FAQs that the English platform will soon have listing fees as well. Currently, you simply pay a 5 percent commission on all sales. While the 5 percent seems a bit high, we do like that you don't have to pay for each list, meaning that the only time you would have to pay DaWanda is if you made a sale.
So there it is. That's the basic information you need about Dawanda. If you have experiences in selling on Dawanda please let us know in the comment box below.
I live in the one of the most beautiful places in the world on the Sunshine Coast in Australia with my wife and our 2 dogs, Poppy and Mia. Since 2009 I have helped over 15,000 handmade business owners to grow their business with our software and
free tools
designed for todays entrepreneurial artisan.
Latest posts by Gary Capps (see all)