Are you looking for something that will draw people's attention to your craft show booth? – Give them free stuff! Who doesn't love free stuff? The best things in life are free, so goes the adage.
It's really a great marketing strategy to encourage consumers to buy. In the business world, giving out freebies may be both a risky and expensive move, but one that is not without heaps of benefits if strategically planned.
So what makes a good promo merchandise item for a craft show?
It should be something inexpensive to reproduce in bulk, it should have your information included and clearly stated, it should be a fantastic representation of your brand, and, most importantly, it should wow your audience. In other words, it should be something that your target customers will hold on to and refer back to when they want to find you again.
Check these cool examples of craft show giveaway ideas and wow your customers: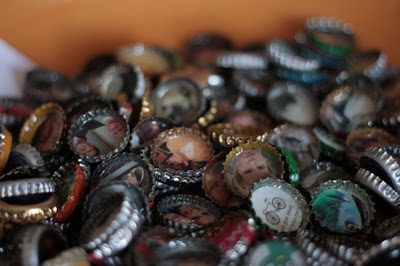 Put you own logo or image in some Bottle Cap Magnets. Check this tutorial on how to make your own bottle-cap magnets by Make Shop Live.
Create something a bit more quick and easy for those last minute givers. Check this tutorial on how to make fortune cookies for your upcoming craft show.
Promo items to give away at craft shows by Pinerly. Genius! I would keep one of these much longer than a business card!
These Tissue Roll Pillow Boxes are a great way to package small items and can be used by your customers at home. Check this article to find out how makeupcycled tissue roll pillow boxes.
Artsy paperclip giveaway idea by Msurette Files
In addition, some craft show sellers made an effort to give some small freebie to every child that passes their tables. It didn't always work, but a good percentage of the time, that child will drag his or her parent closer to the table and viola! A new sale.
Here are some child friendly give-away ideas:
Candy (Always attractive to kids but beware you don't offend candy free parents)
Craft show stickers ideas by Concept Dezain
Bookmarks idea by Scientific Culture
Cell phone charms seem to be a thing of the past, but these cell phone charms giveaway by My So Called Crafty Life still have a special place in everyone's heart.
That's it.
Don't forget this advice when it comes to craft show freebies: "don't spend too much on your freebies and give-aways" and "don't make things that are time-consuming."
I would love to hear if you have any great ideas on freebies that weren't covered in this article. Share them through the comment box blow.
I live in the one of the most beautiful places in the world on the Sunshine Coast in Australia with my wife and our 2 dogs, Poppy and Mia. Since 2009 I have helped over 15,000 handmade business owners to grow their business with our software and
free tools
designed for todays entrepreneurial artisan.
Latest posts by Gary Capps (see all)