So your craft show application has been approved and you have your entire handmade product range finished and ready to be sold and. Thousands of people will be attending and you have to stand out among possibly hundreds of vendors.
Now you have to think of a booth design. No worries! We have the coolest examples of booth design ideas plus tips on how to set it up.
Craft Booth Setup
There are basic things to keep in mind when setting up a craft show booth – things that should go without saying but are often ignored.
Simplicity is important in a person's view of your booth.
Tables should have long skirts hanging to the ground so extra stock or other untidy items can be hidden away, not blatantly left in plain sight.
Keep boxes, hand trucks, electric cords, half-eaten sandwiches, and other mess out of sight. No one likes to browse among slop.
Avoid crowding your tables. When shelves or tabletops are crammed so full that customers can't take it all in at once, this can intimidate them because often customers don't like to "linger" in a booth unless they see an item they like. However, there is a balance to this— booths that have only a few sample products on display may seem stingy. Keep your displays full but not crammed.
Look around at other booths and see what appeals to you and what doesn't. Use it when setting up. Something that turns you off will likely turn off others as well.
Product Displays
It's not easy to talk about displays because every product is different. Some items, such as jewelry, need to be behind glass with bright lights shining on them. Some items need to be dangled from above. Some items need to be displayed on flat tabletops. However, what matters most is visibility. It may seem obvious, but if the customer doesn't see the product, and see it quickly, then it doesn't exist.
Consider the power of a vertical display. Items displayed where the eye can sweep over them at a glance—and see the entire selection—are far more likely to result in higher sales. If you can hang a sampling of your product so they spin and twirl and catch the eye, then do so. Moving parts always get attention.
Check Out These Different Examples Of Craft Stand Setups
There are so many different ways you can be creative in your stand setup. Take a look at some of these great examples we found around the web.
By Camp Cactus
By PoPkO
By Maay Redo
By Ella Elaine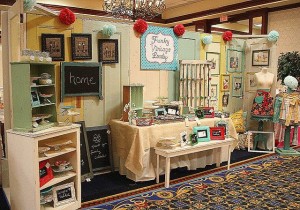 By Katie Daisy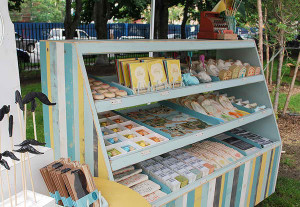 By lilluna
By Pulp Sushi
By Zygomatics
Do what you can to draw the eye and appeal to the senses (Most of the time, this does not include playing music. You will only annoy your neighboring vendors.) Suitable signage, attractive tablecloths, appropriate lighting, homey touches, shiny tabletop accents, and dangling displays, etc. are all examples of how you might improve your visibility.
If you're looking for more booth design inspiration, check out our list of cool craft show display ideas. Or you can browse photos of business card holder ideas to connect with your customers after the event – see what catches your eye, and think about how you can incorporate those elements into your own booth design!
I live in the one of the most beautiful places in the world on the Sunshine Coast in Australia with my wife and our 2 dogs, Poppy and Mia. Since 2009 I have helped over 15,000 handmade business owners to grow their business with our software and
free tools
designed for todays entrepreneurial artisan.
Latest posts by Gary Capps (see all)