You know how these things go. You get so caught up with making your products as sweet as you can to fill your craft booth display table and the most basic business branding strategy gets disregarded.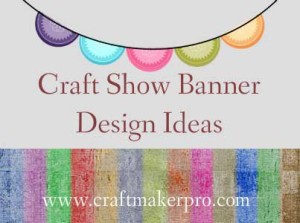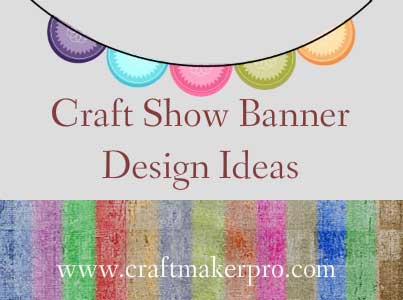 If you are selling at a craft show, you want people to remember your stall but also your craft business' name – and a banner can help you with that.
Banners are not only relevant to Etsy but it's also important to your craft show booth. Also, a customer might be coming especially to visit your craft booth, and a banner makes you so much easier to spot.
Banner Tips
If you're planning to have a printed banner, make sure your banners are printed at resolutions higher than 1200dpi, this will ensure your graphics are printed at the best quality.
If you're going to attach it to the front of the table, get the banner sized so the whole banner is visible – a 4-inch table, a 4-inch banner. That way, even if you hang it on the wall over your display, it'll still be sure to fit in the space.
Other than that, if you've got a 10-inch space (art fairs typically use 10-inch spaces because the canopies are 10 inches), you can get a banner that goes all the way across the 10 inch.
Also, 10″ x 48″ is a good size if your whole name will fit with large enough letters.
It doesn't have to be complicated – take advantage of your skill.
Rather than having a huge professionally printed banner, which can look a bit corporate, why not show off your talent as a maker by crafting your own signage?
If you're still looking for inspiration check out these examples below:
Jean pocket garland tutorial by Yesterday on Tuesday
Banner idea by A Sort Of Fairy Tale
Jenny Germann name sign for her craft show booth
Signage for your craft booth by Poppy Talk
Signage design by Carolyn McCormack
Simple banner by Agnesbartonsabo on Flickr
Banner design by Maiedae
Banner design by Lynn Minney Design
Framed banner idea by Mag Pie Gemstones
Chalkboard banner idea by Gerren Lamson
Bold and bright handmade banner by Dougherty Photodesigns
Craft show banner by Kitty Baby Love
That's it. I hope these tips help you out and inspire you. If you have any ideas that you recommend I'd love to hear them. Leave a comment!
I live in the one of the most beautiful places in the world on the Sunshine Coast in Australia with my wife and our 2 dogs, Poppy and Mia. Since 2009 I have helped over 15,000 handmade business owners to grow their business with our software and
free tools
designed for todays entrepreneurial artisan.
Latest posts by Gary Capps (see all)