They say a business card is "an entrepreneur's best friend," and no one wants a boring best friend.
However, sometimes our friends get us into trouble — and the line between awesome and awful when it comes to business cards can be narrower than you think. If you are thinking about getting new business cards for your handmade business, there are many ways to be unique and attention-grabbing without causing a scene.
Check out these cool examples you can get inspiration from: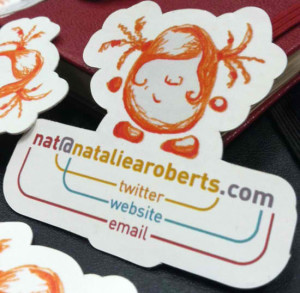 This minimalist business card by Natalie Roberts shows how a simple email address can be used to make a business card that can highlight your website, Twitter handle, and email ID.
Business card rings by Upcycle Your Life
Bombay Bakery has got business cards that look like biscuits. What's more, they are edible too!Cards are 'baked fresh' every 10 day or so and then passed around at local cafes & delis to snack on and promote the bakery.
This business card by TAM Cargo can be changed into a nice little box.
Think beyond plain paper — this nail file design by JukeBoxPrint works well for your fashionable customers.
iPhone business cards by Design Fetish
Take note: you want your card to get the attention of whoever you hand it to, but you also want to keep their attention on your information. Boost your business card marketing strategy by checking out cool examples of business card holders that works great on your craft show event.
I live in the one of the most beautiful places in the world on the Sunshine Coast in Australia with my wife and our 2 dogs, Poppy and Mia. Since 2009 I have helped over 15,000 handmade business owners to grow their business with our software and
free tools
designed for todays entrepreneurial artisan.
Latest posts by Gary Capps (see all)