Etsy stock continued its decline in November dropping another 14.6% according to S&P Capital IQ data.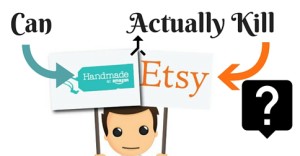 The company began shedding value in early October when online retail giant Amazon Handmade launched a marketplace for handmade goods which competes with Etsy.
Despite the threat, Etsy is putting up a fearless fight against Handmade Amazon, with transactions across its platform rising 21.7% year over year.
The Brooklyn-based company has been cultivating its marketplace dynamics for the last 10 years and has roughly 1.6 million active sellers.
But can Handmade at Amazon actually kill Etsy? It depends.
Let's look at their benefits first:
Etsy Benefits
Etsy has been at this game far longer than Amazon, and it's entirely possible that Amazon doesn't know it's bitten off more than it can chew.
The most important thing is whether the sellers drifting from Etsy to test the waters at Amazon see any overall improvements to their brand reach, traffic, and sales. If they don't, they won't bother hanging around Amazon for long.
Look at their benefits:
Can set up a collective store with other crafters
Buyers can request commissioned work
Easy to list custom and other one-of-a-kind items
Popular site among craft artists and customers
Ability to create custom orders
Not competing with non-craft listings
Access to resources and community centered around making and selling crafts
The stability and "friendliness" of Etsy's marketplace is something that many handmade sellers have come to rely on and expect.
However, this is not to imply they'll stay exclusive to Etsy (history tells us they won't–they're constantly on the lookout for the magic bullet that Etsy has never provided).
Amazon Benefits
Amazon's two biggest "pull" factors for sellers emigrating from Etsy are its strict enforcement of only selling truly handmade goods (something that Etsy, for all practical purposes, stopped enforcing in mid-2013), and a perceived decline in the quality of seller relations on Etsy's part.
However, Etsy has already suspended 168,000 Etsy Accounts in 2014.
There are however other benefits to selling on Amazon that make it competitive with Etsy, such as:
Charges a lower sales commission than Etsy
Ability to host amazon store on your own website
No listing fee to sell as an individual (Etsy charges 20 cents per quantity)
You can sell unrelated items from the same store as an individual, such as books
If anything, Amazon has a reputation for being extremely unfriendly to its merchants.
Amazon's chances of surviving the next 3-5 years are extremely good.
The thing is, Amazon Handmade doesn't even really have to succeed in order to kill Etsy. It could be wholly ephemeral.
The other option for Etsy is to return to a business model more similar to its pre-2013 approach, where sellers are strictly vetted before market entry, but gently cared for thereafter.
It's incredibly hard to imagine how Etsy might begin to roll back some of the changes that alienated sellers, but it's clear that without the loyalty of sellers, Etsy's marketplace is not likely to survive.
Whether Amazon is what kills Etsy, or Etsy's own haphazard strategic planning, remains to be seen.
How about you? Have you tried Amazon Handmade? Do you think it's a better platform than Etsy?
Let us know in the comment box below.
I live in the one of the most beautiful places in the world on the Sunshine Coast in Australia with my wife and our 2 dogs, Poppy and Mia. Since 2009 I have helped over 15,000 handmade business owners to grow their business with our software and
free tools
designed for todays entrepreneurial artisan.
Latest posts by Gary Capps (see all)