Are you wondering if your Etsy store policy is complete? Can it answer all basic questions your customers have?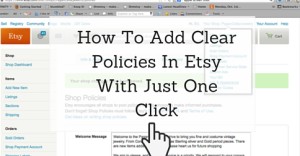 One of the ways you can build trust with buyers and make them feel confident about purchasing from your shop is by having clear Shop Policies.
Creating Shop Policies can be challenging, and Etsy developed a template that includes some general policy information that would be helpful to buyers that you can add to your shop. The policies are easy to understand and give shoppers the information they need to know before purchasing from your shop.
If you currently have Shop Policies, you can continue to use those.
How To Check The Policy Template
You can check out the new Shop Policies template by:
Go to Your Shop
Edit shop
Scroll down to the Policies section
If you have existing policies in your shop, you can try the new template.
You can always switch back to your original policies if you decide these new policies don't suit your needs. Any changes you make to your Shop Policies will be visible to buyers immediately.
Etsy also added a new Frequently Asked Questions section to your shop, so you can clearly address shoppers' most pressing questions and reduce the amount of time you spend responding to Convos from buyers.
Selecting these new Shop Policies are an easy way to give shoppers the information they're looking for while slightly improving your placement in Search.
If you want other reference to make sure your shop policy is informative, you might also be interested to check this free and downloadable Etsy Store Policy Template.
The Policies Section
Shop Policies: Shipping, Payment options, Returns & exchanges and Privacy policy.
These sections contain some pre-written information, along with options to customize some details specific to your shop. They've also included a separate section called More information, where you can include Frequently Asked
Questions and Seller details.
These Shop Policies will be automatically translated based on shoppers' language settings, allowing you to connect with more buyers around the world.
They've also thought about local and international consumer protection laws when creating these new policies, in an effort to help you stay legally compliant in the countries you ship your items to.
Positive reviews, completed About sections, and completed Shop Policies (FAQs and seller details are not factored into search ranking) will give you more credibility which makes visitors to trust your business and buy from you.
I live in the one of the most beautiful places in the world on the Sunshine Coast in Australia with my wife and our 2 dogs, Poppy and Mia. Since 2009 I have helped over 15,000 handmade business owners to grow their business with our software and
free tools
designed for todays entrepreneurial artisan.
Latest posts by Gary Capps (see all)