Sustainability and green packaging are things that bring out the best in handmade artists.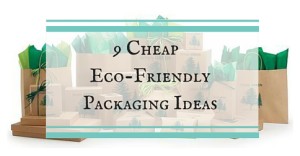 Nowadays, the most popular practice in packaging design is towards the use of eco-friendly materials. These are the ones that which are biodegradable and also recyclable. Indeed, investing in this kind of packaging is worthwhile as are own very existence is under a threat due to our own disregard of our environment.
Since it is now more important than ever to be conscious about our environment, many brands and designers have produced eco-friendly package designs that are reusable or recyclable to help reduce our carbon footprint in nature.
Here are some eco-friendly packaging ideas for your handicrafts:
Make your wrapping part of the present. Wrap a hand painted silk or knitted scarf around the gift. Tie a piece of scrap yarn around it instead of purchasing ribbon or make your bows out of something you would normally throw away like the shiny foil bags coffee comes in.
Out-of-date road atlas pages or used road maps make fun colorful wrapping as do pages from the past years calendars, particularly if they have images or quotes.
A lot of parents wrap every tiny stocking stuffer separately but that's a lot of waste and the kids just want to get to the toy. Consider bundling all the gifts for one child together in a single wrap or if you want to make the opening last longer, make it game like an Easter Egg Hunt with clues.
Kids love cereal boxes. They make a fun container for books and games.
Use real popcorn to cushion your breakables for shipping.
You know those burlap or canvas wine bags that the grocery stores send home? Why not splash a little fabric paint on them to bring beverages to a party rather than purchase a paper wine bag?
Make or buy reusable cloth market bags out of cool fabric and wrap your gifts in them. If you are not in the habit of bringing your own bags to the grocer, paint or stamp the brown craft paper bags and use them for gift wrap. (Trader Joe's makes this extra-easy by using festive holiday-themed brown bags.)
If you still get a physical newspaper delivered to your house, save the comic section. It makes fun gift wrap.
If you're hosting a company or family gathering, make creative wrapping part of the fun. See who can be the most resourceful.
That's it. So what other tips do you have about being a conscious giver? As always, you're invited and encouraged to share your creative ideas in the comments below.
I live in the one of the most beautiful places in the world on the Sunshine Coast in Australia with my wife and our 2 dogs, Poppy and Mia. Since 2009 I have helped over 15,000 handmade business owners to grow their business with our software and
free tools
designed for todays entrepreneurial artisan.
Latest posts by Gary Capps (see all)