You really only have a matter of seconds to capture a customer's attention at a craft show, and good show lights can help you do that.
Lighting is one on the most overlooked aspects of booth design. It can be tempting to want to skimp on purchasing lighting for your booth because the effect of good lighting isn't always as immediately obvious as the impact of other display items you buy or create.
However, good lighting really is important. It highlights your work, and makes your booth more enticing.
Here are some DIY craft show lighting tutorials:
1. Starry Cardboard Lampshade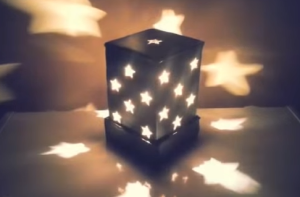 Starry Cardboard Lampshade – This is a great idea to add a celestial element to your craft show displays.
2. Stocking Flower With Light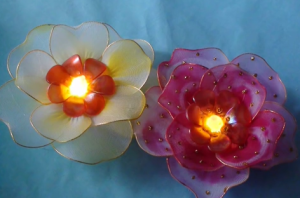 Stocking Flower With Light – The petals are made with stocking ribbon. The lights are candle lights available in import shops.
3. DIY Edison Sconce
DIY Edison Sconce – Edison bulbs are very on-trend and this tutorial shows you how to make a sconce on a budget! You can attach the sconce to your craft booth display or walls for some extra lighting.
4. Christmas Lights in Wine Bottles
Christmas Lights in Wine Bottles – Another cord and outlet-free option, you can use some vintage or thrifted wine bottles to house a string of battery-powered lights.
5. DIY Wooden Cube Lamp
DIY Wooden Cube Lamp – You can use Edison bulbs on this cube lamp. It is super simple and you can either hang it or display it on a shelf/table in your craft booth.
6. Macrame Rope Lights
Macrame Rope Lights – Learn how to make these macrame rope lights to light up sections of your booth. They have such a crafty look to them and are so simple!
7. DIY Concrete Lamp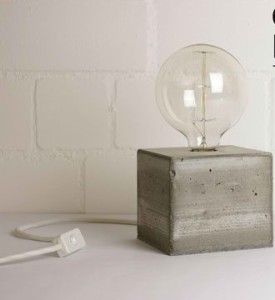 DIY Concrete Lamp – A lamp from concrete easily can be made by yourself with quite simple tools and materials. Plus, if you have this on a shelf or a table, you won't have to worry about your light fixture blowing away in the wind!
8. Tin Can Lanterns
Tin Can Lanterns – These lanterns fit perfectly on any table, deck, patio, or porch for the summer season. If you are looking for table decorating ideas, these tin can lantern patterns are absolutely incredible.
Also, consider using battery powered lights. Many venues don't offer power or only offer power to certain booths at a big premium.
I've found there are a handful of companies that make battery powered trade show lights that work great in a craft booth such as Pegasus Lightning and Silicon Lightworks. They both have some really nice options available.
I live in the one of the most beautiful places in the world on the Sunshine Coast in Australia with my wife and our 2 dogs, Poppy and Mia. Since 2009 I have helped over 15,000 handmade business owners to grow their business with our software and
free tools
designed for todays entrepreneurial artisan.
Latest posts by Gary Capps (see all)