Do you want to make money from blogging and at the same time promote your handmade products?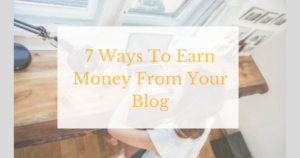 I started my Craft Maker Pro blog in 2013 and earned some benefits from it… then started making a full-time income less than a year later!
Here are 7 things you can do to make sure your blog makes money too!
1. Products/Services
Marketing your own products and services is the number one reason why bloggers start a blog and is also a common way to generate income.
You can actually sell anything that you can make! Handmade soaps, candles, vintage jewelry, and many more. Commonly, blog owners usually provide free e-books, training, courses, webinars and other things that apply to their audience.
Products and services do take up even more money and time than other resources. That being said, they can be great resources of earnings if you know your target audience very well.
2. Advertisement Opportunities
One of the most common income opportunity for bloggers is through Ads.
You're probably made use of to seeing this when you visit blogs – banner advertisements, clickable links, etc. They are all effectively incorporated into the blog.
So what does it cost?
The amount of money you get from advertisements depends on a variety of different variables, such as:
Pageviews
The first thing that affects the value of your ad placements is the number of page views you bring to your website. This means you need thousands of page views each month to be able to get a decent amount of income from your blog. Still, if you know what you're doing, you can make a lot more money.
Ad Networks
One of the most popular network is Google AdSense. You'll need to sign up with an Advertisement Network. Essentially this platform works with a lot of ad marketers to put ads around the web, including your site! Payments vary by advertisement network.
3. Affiliate Marketing
Affiliate marketing is not common for bloggers who are just starting out, however it's equally (if not even more) effective. Essentially, affiliate marketing is when you market an item on your website and get a commission from the earnings from any type of resulting sales. Virtually every business has an associate program, so it's pretty very easy to get involved.
Tip: You should promote a specific product if you truly, genuinely like it or it is related to your blog content. If you supported an item just to earn a little extra money without any relation to your niche then your readers may end up disliking it, they won't ever purchase anything from you ever again. Additionally, beware not to overdo this, even if you do enjoy whatever you're promoting. You're not a strolling billboard. You're a blogger.
Affiliate marketing could be one of your biggest income sources. And, it's a win for everybody! The associate business produces more sales, you get a commission, and the buyer gets a genuinely useful item!
4. Sponsored Content
Sponsored content is where a business provides you with something – may be in a form of money or free products in exchange of a review or promotion. Now, it might seem like an uncommon way to earn money for many bloggers except for those that have a huge following on social media, yet what many brand-new bloggers have no idea is that they don't have to wait for a business to find to them!
You can connect to the company first to see if they are interested for a review or promotion in exchange of money or free products! However, you need to build a decent number of following first to close a deal.
The blogger will usually pitch a particular blog post idea, as well as the firm can either accept/reject the concept. After that, another win-win situation is created! The business gets to advertise itself, and the blogger makes money (either in cash or with complementary products, and so on) to discuss something they highly sustain!
Similar to affiliate marketing, it's very important that you only accept sponsored posts for things related to your blog and you would absolutely recommend. Your readers are far more vital for your company than a few fast dollars.
5. Content Writing For Others
As a blog owner, your main specialty is creating outstanding posts. Many blog owners that are just starting out can get extra earnings by writing content for other blog sites or companies. Content production is popular, so there's no scarcity of need and you could likely discover this type of job easily with a quick search on the internet
That being said, this kind of strategy does require time away from your real niche (your blog site), so I wouldn't use this as a long-term technique.
6. Media Appearances/Interviews
If you become a popular blogger and get a huge following in your particular niche, it's likely that you'll get asked to do a live guesting or other media interviews. This is great as you not only make money but you will also be able to market your products and blog site.
7. Paid Press Trips
Blog writers typically get paid to go to places and blog about their experience. They usually require a number of posts (on your blog site, social media sites, as well as other outlets) each day that the blog owner should create, but it's extremely manageable.
This is a great source of income when you get to this stage due to the fact that it's an additional source of web content for your personal blog site as well. And also, the experience could commonly be a lot of fun!
Check this video by Alisson Lindstrom to know about your first $200:

Are you ready to start your blog now? If yes, comment your blog name below so we can visit. Good luck!
I live in the one of the most beautiful places in the world on the Sunshine Coast in Australia with my wife and our 2 dogs, Poppy and Mia. Since 2009 I have helped over 15,000 handmade business owners to grow their business with our software and
free tools
designed for todays entrepreneurial artisan.
Latest posts by Gary Capps (see all)