Are you thinking of whether you should start making videos for your handmade products or not?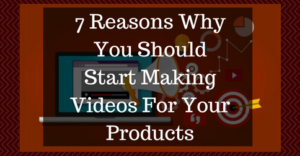 According to a study published in The C100, over 70 percent of Internet users watch videos online, and over 50 percent of the population will watch videos this year. Also, the average person retains only 10 percent of what they hear, but 50 percent of what they see according to a study conducted by Wharton Research Center.
As you can see from a recent survey conducted by Video Rascal, 85 percent of people are more likely to buy a product once they see a video about it.
So here are other amazing reasons why you should start making videos for your handmade products:
This is the best way to present your products, service and explain how they work. Today you can use social media and emails to distribute your videos.
Product videos help small business owners keep tally of how many visitors on their sites could become actual customers because videos keep track of what product potential customers are interested by displaying the number of views on each video.
It increases the duration that a person spends on a web page.
People gain a better understanding of your product once they see and hear you explain it.
Videos help you to explain better with your potential customer by explaining what your business and/or product can do for them and why they should choose you over other competing businesses.
Your target audience will remember what they saw and heard unlike other marketing methods.
Use of audio visuals also helps you in winning the trust of audience because they understand that it takes time and efforts to create your products.
If you are not yet convinced, here are other astonishing facts about video marketing in 2016 by Lindsay Kolowich from HubSpot:
So are you going to make videos for your products now? If not, what's stopping you? Please let us know in the comments.
I live in the one of the most beautiful places in the world on the Sunshine Coast in Australia with my wife and our 2 dogs, Poppy and Mia. Since 2009 I have helped over 15,000 handmade business owners to grow their business with our software and
free tools
designed for todays entrepreneurial artisan.
Latest posts by Gary Capps (see all)